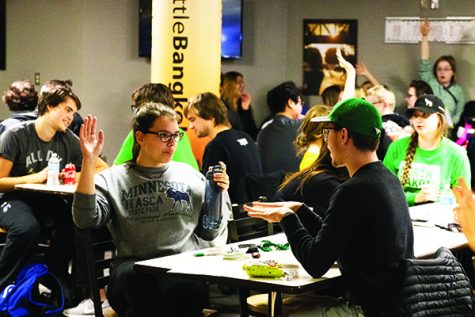 Noah Sell, Arts & Community Writer

November 6, 2018

Filed under Arts & Community, Arts&Comm, Community Fun, Dakota Student, Family, Grand forks, Noah Sell, Showcase, Student Life, UND
Trivia Takeover is a trivia event hosted by the university every couple of weeks, the topics are chosen from popular media. Past themes have included Disney, the television show Friends and most recently the book and movie series Harry Potter. Each trivia night attracts dozens of teams of like-min...
Noah Sell, Arts & Community Writer

October 9, 2018

Filed under #dakotastudent, Arts&Comm, Noah Sell, Showcase
This week UND, along with the Community Violence Intervention Center (CVIC), hosted Take Back the Night and the Clothesline Project to show support for and tell the stories of survivors and victims of domestic abuse, sexual assault and rape. The Clothesline Project was on campus from Monday through Friday...