Making moves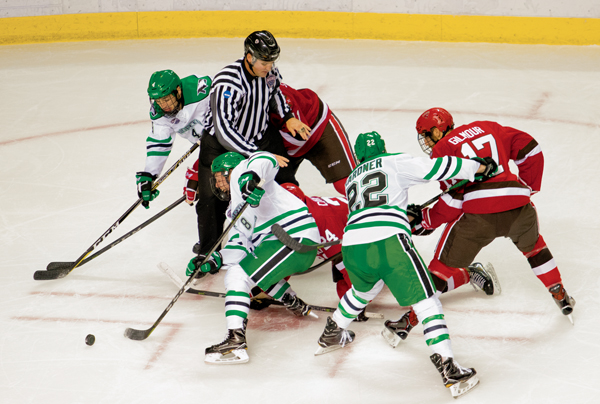 Transferring schools in college sports is not uncommon, but in college hockey it is done very rarely. For the University of North Dakota, this season there have been three transfers, two leaving the program (Chris Wilkie and Matej Tomek) and one coming into the program (Nick Jones).
Prior to this last offseason, the last player who transferred to UND was Mitch MacMillan in the 2011-2012 season. MacMillan transferred from St. Cloud State, and pitched in defensively for the team. He never found a scoring touch, only scoring a total of 10 points in 39 games played at UND.
The decision to transfer schools can be incredibly hard, and there are many reasons a player may decide to transfer schools. Junior forward Nick Jones knew he needed a change of scenery.
"It was my sophomore year, and I felt I was not developing at the rate I wanted to," Jones said. "I just wasn't enjoying myself there as much as I had been in the past. I thought I was still in a situation where I could go back to juniors, and find a new place that fit better."
When it came to the decision to transfer away from UND, Tomek knew he must in order to progress his game.
"The decision about leaving UND was very tough," Tomek said. "But it ultimately came down to the opportunity of playing time. I believe this way I will be able to get more opportunity this year and reach my goals going forward."
While the decision to leave UND was for his betterment of his game, Tomek admits he will miss UND.
"First and foremost, my teammates and the atmosphere of packed Ralph on Saturday nights," Tomek said. "But of course, also all of my friends outside of hockey team."
Players leaving a team can have repercussions throughout the locker room. While the locker room is different, players understand the circumstances at the end of the day.
"You never want to lose one of your teammates, one of you family members, to another team," captain Austin Poganski said. "At the end of the day, coach is trying to bring in the guys that will help our team win another National Championship. I think maybe those guys (Wilkie and Tomek) did not have the right mindset or were not pushing our other guys to their best limits. I think as a coaching standpoint you want to have the guys, who are in the lineup or who aren't in the lineup, who will be the best teammates."
Success does not come easy to players, let alone if the player is transferring into an already established team, basically becoming a "freshman" again. They have to learn new systems, new teammates and develop chemistry with teammates and staff.
"It is a little weird coming in as a junior," Jones said. "I went through this being a freshman, but coming in as a junior, you only have two years here, but at the same time this is your first year, so you have to adapt a little quicker than I did as a freshman."
Switching schools can be hard on a player, not only on the ice, but adjusting to the new community as well. For Jones, this has not been an issue.
"I like UND a lot," Jones said. "Especially being around the rink, with the tradition, and the pursuit of excellence here is second to none."
Jones is feeling at home at UND. He can attribute that to his teammates. Jones' teammates have welcomed him in with open arms, and treated him as any other teammate, giving him a lot of grief and making jokes with him.
Jones adds much needed depth to the UND hockey program. He believes his smart defensive style of play will benefit the team as they attempt to win yet another National Championship.
"Good 200-foot play," Jones said. "I think I compete hard at both ends of the rink, good on the faceoff dot, and hopefully provide a little bit of offense as well."
Jones' captain approves of what he has been able to do for the team so far this season.
"He's (Jones) taken on a big role already on the team," Poganski said. "He brings his work shoes and work bucket to the rink every day."
UND hopes their moves this offseason helps regain the play and chemistry of the National Championship team of two years past to propel them to yet another National Championship for this historic program.
Kyle Kinnamon is a sports writerfor Dakota Student.He can be reached at [email protected]