Saying Goodbye
Rhett Gardner will be playing in his last series at home this weekend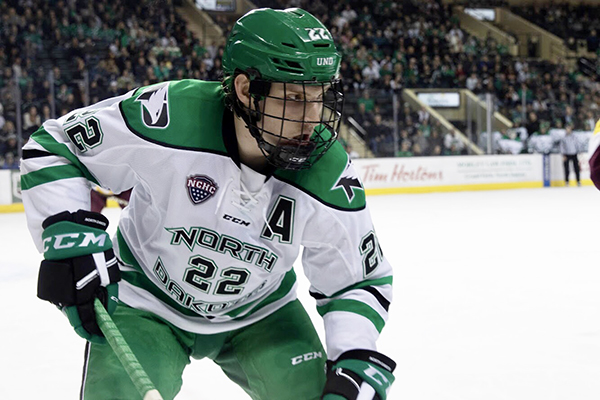 Rhett Gardner, the hard-nosed, skilled, physical and proud player for the University of North Dakota Men's hockey team is set to play his final series for the program that has meant everything to him for the past four years.
"It has easily been the best four years of my life," Gardner said. "It's a cliché thing to say. But it's not just the hockey side of things. It is the memories you make and the people you develop friendships with. You're not going to find that anywhere else."
The 23-year-old out of Moose Jaw, Saskatchewan has been a top player and a fan favorite over his four years at UND.
In Gardner's four years at UND, he has appeared in 144 games, tallying 34 goals and 39 assists for 73 points. Gardner is ranked second all-time in face-off wins for UND and is currently ranked fifth in the nation in face-off percentage. Gardner won the 2017-2018 NCHC Defensive Forward of the Year despite being injured for part of the season.
Gardner had shown promise before coming to UND yet remained undrafted. After helping win the 2015-2016 NCAA National Championship, Gardner solidified his decision to go the college hockey route when he was drafted 116th overall by the Dallas Stars in the 2016 NHL Entry Draft.
"Rhett came in as a freshman that wasn't highly touted but had a pretty big impact on our National Championship team his freshman year when it draws on that heavy line," Head Coach Brad Berry said. "His game through this year and through his career has had some ups and downs, but the biggest part of this year was his conditioning. Trying to get a place where he can play those heavy minutes and have his body be resilient game after game while playing at a high pace, and I think he's done that."
The college hockey route for Canadians has become more popular in recent years, yet was still an atypical route when Gardner committed.
"I found out about college hockey from UND and just kind of knew that I wanted to play college hockey, but never knew I would actually come here," Gardner said. "I wanted to be a part of college hockey as a whole. To come here and to have done and accomplished the things I have has been pretty incredible."
Gardner understands all facets of the game when it comes to UND hockey. It is what has made him a special player for the program during his tenure.
Gardner knows it is more than just putting up numbers. It is showing up for every shift, putting your heart on your sleeve and playing for your teammates. Simply put, it is continuing the tradition of UND hockey.
"The biggest thing for me about this program is just the tradition; how much it means to wear that jersey here every day and just to not take it for granted," Gardner said. "We're treated with so much here, and it is your kind of spoiled attitude. But I think our humble hard-nosed attitude shows why our program has so much success."
Gardner's teammates and coaches will be the first to emphasize Gardner's meaning to the UND hockey program.
"He's been huge for us," sophomore defensemen Gabe Bast said. "He's a great guy in the locker room, he's always keeping it positive. Coming in as a freshman, I played with him for a little bit there and he just showed me how to be a college athlete, on and off the ice, what you have to do and how to prepare each game."
"He's come light-years in his physical development from day one when he stepped on campus," Berry said. "He plays with his heart, he wears his heart on his sleeve, he's an ultimate warrior when it comes to battling every shift, but I think sometimes he gets caught up in the game and that's where I think some composure has to come in. I think that's still a work in progress and he'd be the first one to admit that, but it comes from a guy that cares. A guy that wants to lead the team in the right way."
Gardner has not only left an impact on the UND hockey program, but the program has left an impact on him. He will be playing in his last series at the Ralph Engelstad Arena coming up on March 8-9 against Omaha.
"Simply, it's bittersweet," Gardner said. "It's probably the best place I'll ever play in for an atmosphere and rink. So it's tough, but at the same time I've appreciated the last four years."
Gardner has shown the underclassmen what it takes to play UND hockey and continue the tradition that he was shown when he was a freshmen. After the season, Gardner will look to take the next step into the NHL, becoming the 101st UND hockey player to reach the professional level.