An Emerging Leader: Mark Senden
A positive attitude and hardwork bring new leadership to UND hockey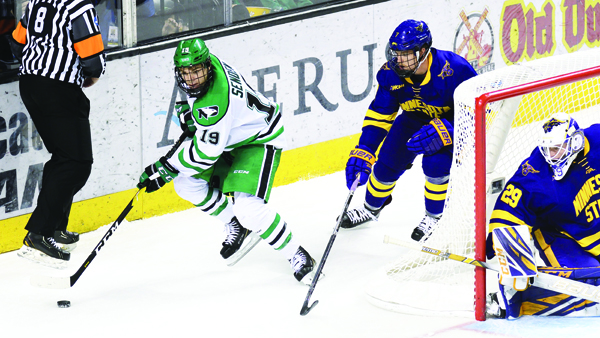 Working hard with a smile. That is North Dakota freshman Mark Senden's attitude towards hockey.
The 20-year-old freshman from Medina, Minnesota was not expecting to make the lineup at the start of the season. However, his work ethic and tenacity has made it almost impossible for Brad Berry and the coaching staff to remove him from the lineup.
From Senden's mindset to starting fresh every single day is what has set him apart over the years on his teams.
"You start at zero every single day," Senden said. "I take that personally. I practice every single day like I'm not in the lineup competing for that spot. You start from zero, because it is not what you've done in the past, it's what you are going to do in the future."
Senden's start at zero mentality has worked for him over the years. Senden has captained two teams to their league championships. In 2016, Senden led Wayzata to the Minnesota State Hockey Tournament for their first ever state title.
Senden thoroughly enjoyed his time at Wayzata High School.
"Best part about Wayzata was growing up with everyone," Senden said. "You've been together for 15 years playing youth hockey, and it's easy to keep up with people in your class because so many come to North Dakota every year."
Senden then went to the Des Moines Buccaneers of the United States Hockey League. Senden was quickly traded to the Fargo Force. In the 113 games Senden played in the USHL, he boasted 23 goals and 17 assists for 40 points while maintaining a positive 28 plus-minus ratio. Senden remained out of the penalty box as well with only 50 penalty minutes over his tenure in the USHL. In his final season, Senden lead the Force to the Clark Cup Championship.
"The best part about Fargo was the atmosphere and the guys there. I really loved coming to the rink everyday and going to Kroll's with the guys," Senden said.
Senden has come into North Dakota as a 20-year-old freshman. To some this can be odd, but Senden doesn't think about it too much.
"It is not that weird. It only gets weird when you think about it," Senden said. "I have buddies here that are juniors and seniors. It's crazy to think that when I walk by them and they ask what classes I am taking and I say English 110, while they are taking 300 level classes."
For non-student athletes that may still seem odd, but for student athletes, especially in hockey, this is a normal occurrence.
"In the hockey sense it is not too uncommon to have guys go play juniors for a couple years. Personally, it does not feel any different because I am just happy to be here. I don't think of it as I am 20 and a freshman. I just think I am a freshman at UND, and I love it," Senden said.
Senden has made the most of every opportunity in his hockey career and it has paid off. Senden's ability to stay focused and humble is what has made him a great leader.
"On each team there were plenty of leaders, not just me," Senden said. "In high school and last year, everyone was a leader in their own way. Everyone brought a certain set of skills, traits, and qualities to the team every single day."
Senden hopes to continue this at North Dakota. Senden does not get caught up in the hype or expectations, but he has a plan here at North Dakota.
"We obviously have those end goals that we want, but we have to take it game by game," Senden said. "You can't focus on something too far ahead or else you get lost in the future and cannot focus on the present. If you skip over one game and focus on the next, you won't focus on the game in front of you."
Senden should become a critical part of the North Dakota team and culture for the next three seasons.