Kawaguchi shines in weekend sweep
Men's hockey took down NCHC opponent in convincing fashion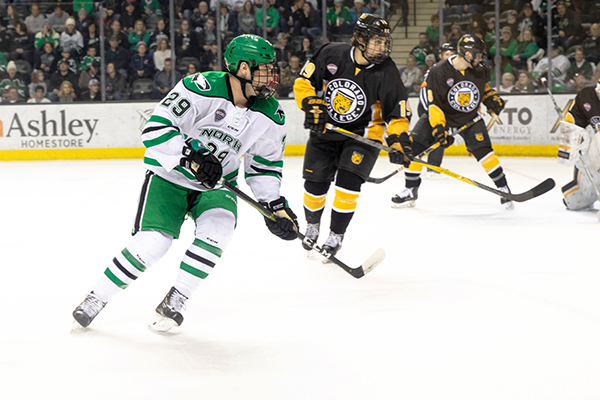 On a weekend filled with talk of the past, sophomore forward and University of North Dakota  points leader, Jordan Kawaguchi was focused on the future.
After coming off a tough, heart-wrenching weekend in Buffalo, New York against Canisius College, UND was determined to steer the ship in the right direction.
"We know after a weekend like that, we need to put our best foot forward on Friday night, and we plan to do so," senior forward and alternate captain, Nick Jones said.
A key piece in steering the ship in the right direction would be Kawaguchi. After a decent freshman season, boasting five goals and 14 assists for 19 points, Kawaguchi has started taking the next step in his development.
"He's [Kawaguchi] a guy that has taken the step from year one to year two," head coach Brad Berry said. "He went through the BCHL and had a lot of success scoring. So I know for him personally, he feels a little bit frustrated because that is his game. But, in saying that, he has done a lot of great things to create offense in other ways for us. We see a guy here in the long term that will be very beneficial to our group and have a good successful career here. He is a guy that has grown."
And grown he has. Kawaguchi is sitting at 16 points already with a definite contribution to each game this season.
"You look at other guys like Drake Caggiula. Those type of guys that have been here for four years with similar games," Berry said. "There was adversity going forward but they ended up being dominant players for us, and I feel he is already a dominant player for us."
Friday Night
While all eyes were on the return of former UND forward, Chris Wilkie, and UND's first home game since the holiday break. Kawaguchi was focused on his next shift.
Kawaguchi was all over the puck the entire game, showcasing his talents in front of the 11,094 fans in the Ralph Engelstad Arena. Kawaguchi would set up the opening goal on the powerplay for UND. Registering the second assist on the goal.
UND and Kawaguchi would continue to pepper the net all night long. Ending up with 47 shots on net for the game. After giving up a two goal lead, Kawaguchi tied the game with a backdoor tip 14:14 into the third period.
"I just went to the net with my stick on the ice. It was something coach was harping on this week a lot. Just getting to the dirty areas with our sticks on the ice and the goals will come," Kawaguchi said.
Saturday Night
With the 1959 NCAA National Championship Fighting Sioux team in attendance, Kawaguchi continued to make plays on the top line with Jones and junior forward, Ludvig Hoff. Kawaguchi would register an assist on the opening goal scored by Hayden Shaw, senior defenseman, just one minute and 18 seconds into the game.
Kawaguchi and Jones would sustain their chemistry that has been blosomming throughout their time at UND. Kawaguchi would score the game winning goal just 51 seconds into overtime on a rebound off a Jones attempted wrap-around.
Kawaguchi finished the weekend with four points. An even two goals and two assists, extending his team-leading points to 16 points on the season. This is three more points than the next two men with 13 points, Jacob Bernard-Docker and Nick Jones.
The Numbers
Kawaguchi has made his mark on the North Dakota program quickly throughout his tenure. This can be attributed to his chemistry with Jones. Kawaguchi has a career 35 points, 20 of them from when Jones is his center.
"He is awesome," Jones said. "He was so hard to play against in Penticton, so smart. I've been able to play with him for a while now and he's great to play with. He does all the right things out there and is a great asset for us."
In the 26 games played between the duo, Kawaguchi has swapped between left and right wing many times during his time at UND. When playing with Jones at center, of the 20 points, Kawaguchi has only scored goals when he is on the right wing. Kawaguchi has four goals and ten assists on the right wing and only six assists on the left.
Kawaguchi and Jones have shared their time on every line for UND. However, Kawaguchi has shown he is a top six talent. When playing on the top two lines Kawaguchi has 23 points, only 12 points when he is in the bottom six.
The fans at the Ralph Engelstad Arena love Kawaguchi and Kawaguchi loves the Ralph. Kawaguchi has over double the amount of points when playing at home, 21 points compared to 10 points.
Kawaguchi has become a staple in the UND lineup and will be for years to come. Kawaguchi plays with passion and integrity while putting up the numbers to go with it.