The Rolling Jones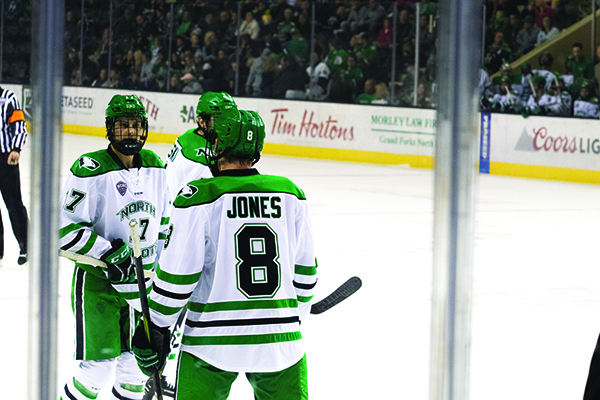 After beating former WCHA rivals University of Minnesota Golden Gophers in Las Vegas, North Dakota looked to carry the momentum back to the Ralph Engelstad Arena for a series against another former WCHA rival in the Wisconsin Badgers.
Friday
While senior alternate captain, Rhett Gardner, stole the show Friday night boasting a hat-trick en route to a 5-0 win, fellow senior alternate captain, Nick Jones, flew under the radar and quietly became North Dakota's points leader. Jones set up freshman defensemen, Jacob Bernard-Docker for a beautiful wrist-shot goal.
Jones' assist came only a couple minutes after a goal he scored was waived off due to the referee intending to blow the whistle on a covered puck. Jones got his redemption with the assist.
Jones' defensive play was a major factor in North Dakota's win Friday night. Jones took away constant passing lanes from Wisconsin. When Wisconsin did get a pass through, Jones was right there to strip the puck or cause a turnover immediately.
Jones gravitates towards to puck on offense and defense. Jones' defensive plays and relentless effort consistently creates offensive scoring chances. Jones won countless puck battles in the offensive zone corner to keep the play alive and keep possession for North Dakota.
Jones help set the tone for the weekend Friday night for North Dakota and would carry that into Saturday's game.
Saturday
Saturday's contest was full of special team play. With no surprise, Jones would be a key piece on the power play and the penalty kill for North Dakota.
After countless chances, Jones tied the game 3:49 into the third period on a mini-breakaway. Bast fed Jones on a beautiful stretch pass, then Jones did the rest ending with a nice five-hole move.
"I got it in the corner, made a move on the guy, and saw (Jones) breaking," sophomore defensemen Gabe Bast said. "Honestly, it was kind of lucky how it got through there, but Nick made an unbelievable move there for that goal."
While Jones' goal was a highlight-reel goal, the biggest highlight for Jones on Saturday night was his face-off draws. Jones won 18 of 20 draws on the night, many coming in the last minute and a half when North Dakota was on a 5-on-3 power play. Jones has struggled in the face-off dot this season, but there is no doubt he turned it around on Saturday.
"I've been kind of struggling lately on the draws, from last year comparatively. But, to get that and go on a roll there in the third period, winning them clean, it is a huge booster," Jones said.
"I know those power play draws are very key. It was nice to get that, especially because I've been struggling. But, you know a lot of those wins are winger wins too. We've got good wingers that get in there. It is something we preach and work on, especially us centers. But, it is a five man draw every single time, and I was fortunate enough to go on a roll tonight."
Jones' ability to play under the radar is what makes him a special player. While fans may not notice all the little plays he makes, Jones' coaches and teammates surely do.
"That's leadership, right? That's a guy that leads the right way," head coach Brad Berry said. "He is vocal in the locker room and says all the right things. He gives a high level of accountability to the rest of our group. Not only in the locker room but on the ice, showing how you have to do it. You can't have enough of those leaders."
Jones leads the team with six points on the year with one goal and five assists. Jones is tied with sophomore forward Jordan Kawaguchi for the most assists on the team. Expect both Jones and Kawaguchi to have similar assist numbers while they continue to build chemistry on their line for the remainder of the season.
North Dakota travels to the University of Ohio Miami to face the Red Hawks next weekend. Keep an eye out for Jones' neutral zone and board play, as he will continue to create turnovers for North Dakota.