Netflix original stuns viewers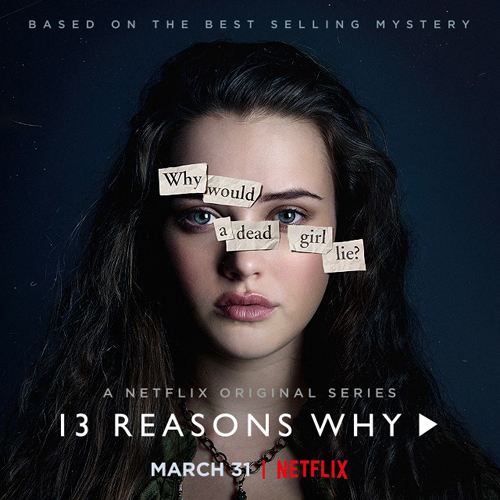 It's always exciting to see one of your favorite books turn into a movie or a TV show. I fortunately had this experience happen on Friday, Mar. 31. "13 Reasons Why," a book published in 2007 by Jay Asher was adapted into a TV series by Netflix. It is Netflix's newest must see series.
Back in 2007, I read the book, and it was one that was impossible to put down. Thankfully, Selena Gomez had a similar experience. We have her to thank for being dedicated to this project, and casting characters that would do justice to Jay Asher's 2007 hit. She serves as Executive Producer (EP) for the series and also contributed to the soundtrack.
The show is an ambitious and sympathetic dive into the difficult challenges of high school. "13 Reasons Why" contextualizes and humanizes depression, grief, suicide and the after effects of sexual assault through scenarios and characters that viewers are unlikely to forget. It does a great job of depicting the strong emotions and social pressures of high school, without being condescending to any group of viewers
"13 Reasons Why" chronicles the fallout from a student's suicide and then unravels the web that brought her to that decision. Hannah Baker leaves 13 audiotapes she recorded before her death which reveal the reasons she chose to take her own life. Each episode concerns a character who harmed her in some way or who could have helped her more. But Hannah does not simply cast the blame on others, she blames herself as well.
"I see myself as Hannah so much," EP Selena Gomez told The Hollywood Reporter. "I wanted it to feel like anyone can see themselves in this."  That's exactly what happens when you watch this series. It's raw, real and difficult not to connect with it on a personal level.
Katherine Langford and Dylan Minnette give outstanding performances, and they star as Hannah and Clay, who meet during their sophomore year of high school. Clay is the type of kid who hangs out with everyone ,but is ultimately a bit of a loner. Hannah is the pretty new transfer student who becomes his classmate and coworker at a movie theater.
There's a light in Hannah that slowly fades throughout the series as she becomes worn down by life's disappointments. When Clay opens his front door two weeks following Hannah's death to a shoebox, he's shocked she's left such a detailed record of her spiral downward and how many names on her list that he knows very well, which includes his own. Hannah's voice leads the way through the tapes, counting down the group of accomplices, tormentors and ex-friends who led her to take her own life.
To understand how he fits into the puzzle, Clay has to listen to all of the tapes, even when Hannah's story becomes difficult for him to hear. Along the way, Clay learns the secrets that people around him kept, as well as the lengths those people will go to ensure that their secrets stay hidden.
His friend Tony acts as Clay's guide periodically throughout the series. Tony remains cryptic, however he clearly knows the secrets, since he's already listened to all of the tapes.
A familiar name in the series amongst the adults, is Kate Walsh, who played the role of Hannah's grieving mother. A popular favorite on the early seasons of Grey's Anatomy, her acting in "13 Reasons Why" is outstanding and she tackles her complex role rather well. 
"13 Reasons Why" also examines how adults and school officials can look the other way when it comes to many kinds of bullying. The show depicts many scenes of parents and teachers being unaware of the toxic attitudes and behaviors that are occurring right in front of them.
The series has been a hot topic on social media since its release Friday, Mar. 31.  It has already broken Twitter records reaching 3.4 million Tweets with 200,000 in just one hour alone.
I strongly urge you to take on "13 Reasons Why" when you need a break from studying. Whether you prefer to read a book or prefer to use your Netflix account, this story is so raw and real that it is worth giving your time.
Liz Kacher is a staff writer for The Dakota Student. She can be reached at [email protected]