Trump in office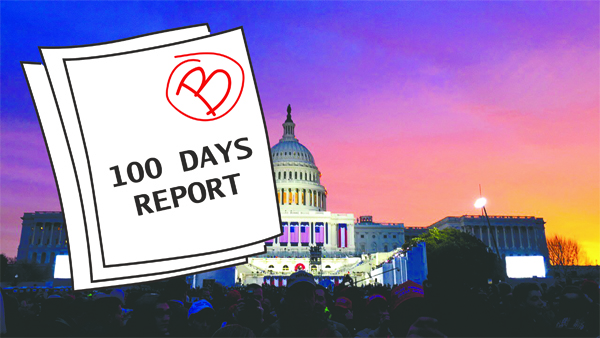 Nearly six months ago, Donald Trump was elected as the 45th President of the United States and he promised to the American people that he would "Make America Great Again."  The first 100 days of his presidency proved that he fully intends to keep the promise that got him elected to office.
"I truly believe that the first 100 days of my Administration has been just about the most successful in our country's history," Trump said in his weekly address, released Friday, a day ahead of the milestone. "In just fourteen weeks, my administration has brought profound change to Washington."
President Trump, I agree with you. Promises made became promises that were kept during these first 100 days. Despite what the mainstream media says, President Trump made a number of monumental achievements and has done his best on several of his campaign promises. As a grade for Trump's first 100 days, I would give him a "B". The paragraphs that follow detail a few of the reasons why I consider the first 100 days a success.
In the past 100 days, our Commander-in-Chief has started to deliver on his promise to the forgotten men and women of America to "drain the swamp" that favors special interests and those in power. Trump signed an executive order to prohibit political appointees from lobbying the government for five years after serving in his administration, and also to ban outgoing officials from representing foreign governments
The appointment and now confirmation of Justice Gorsuch is something I consider to be one of President Trump's major wins. He fulfilled his promise to appoint a conservative judge to SCOTUS. Gorsuch filled the seat of the late Antonin Scalia, who passed away in 2016.
After a year of an empty seat in the Supreme Court, Senate Majority Leader Mitch McConnell went nuclear and ensured Gorsuch's appointment after resistance from Senate Democrats. I couldn't be more proud of President Trump and this huge win.
In a nod to Gorsuch, Trump said in his weekly address on Friday, "A truly great judge, Neil Gorsuch, now sits on the United States Supreme Court. Justice Gorsuch is deeply devoted to our Constitution. My administration is the first in the modern political era to confirm a new Supreme Court Justice in the first 100 days – the last time it happened was 136 years ago in 1881."
Commander in Chief Trump has exhibited strength and courage as he starts to restore America's standing in the world. By making investments in the military and taking swift action in Syria and Afghanistan, President Trump has helped enhance the safety and security of America.
I couldn't be more proud of President Trump's decision to take action in Syria.
When Syrian President Bashaar Assad used chemical weapons to carry out an attack on his own people, resulting in more than 100 deaths. A response was necessary. President Trump recognized the tragedy and showed that the chemical attack Assad so cruelly ordered on his own people would not go unanswered.
"Assad choked out the lives of helpless men, women and children," Trump said in remarks from Mar-a-Lago, Florida on Apr. 7. "It is in this vital national security interest of the United States to prevent and deter the spread and use of deadly chemical weapons."
Another win for President Trump was following through on his promise to withdraw from the Trans-Pacific Partnership.  He officially cancelled a pending 12-country free trade agreement that former Presidents Bush and Obama believed would help the U.S. compete with China.
President Trump also promised to require that two regulations be eliminated for each new one imposed, and he delivered. He signed an executive order requiring agencies to identify two existing regulations for every new one imposed.
Trump said he would lift restrictions on mining coal and drilling for oil and natural gas, and he has done so. He has unraveled numerous Obama-era restrictions, and he has initiated a review of the Clean Power Plan, which was intended to restrict greenhouse gas emissions at coal-fired power plants.
The reason I graded the first 100 days a 'B' rather than an 'A' is due to my disappointment in the failure to repeal and replace Obamacare, a central promise of Trump's campaign. However, it's not entirely his fault. Healthcare continues to be a battle for President Trump and the GOP, and unfortunately it cannot be added to President Trump's list of accomplishments.
However, the battle is not over. Although Trump and Ryan were unsuccessful in swaying their GOP counterparts to support a healthcare alternative back in March, the Commander in Chief and Speaker of the House continue to find a viable solution to the failing Obamacare.  Ryan is confident that an alternative to Obamacare will come despite the failure back in March.
President Trump has had a difficult time getting his legislation passed by Congress, minimizing his ability to follow through on every campaign promise he made during the election. However, I applaud his ability to persevere despite Democrat opposition and the mainstream media's perpetuation of fake news.
These first 100 days with Donald Trump as the 45th President of the United States have showed us that we haven't seen anything yet. I look forward to seeing what else President Trump will do to "Make America Great Again."
Liz Kacher is a staff writer for The Dakota Student. She can be reached at [email protected]