Valley Voices speak during 48th annual Writers Conference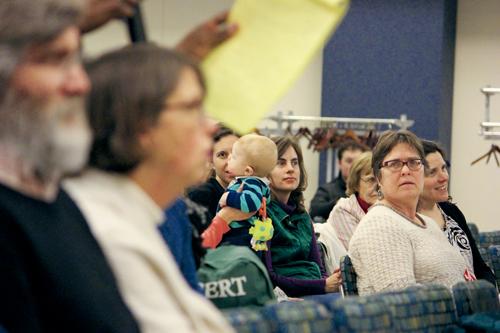 For the fourth consecutive year in a row, the Voices of the Valley (VOTV) have participated in the annual Writers Conference. This years theme for the conference was "Citizen," and the writers associated with VOTV decided to focus their pieces on the 20th anniversary of the Grand Forks flood of 1997.
VOTV is a nonprofit writing project that began in the fall of 2013. The goal of their project was to integrate both millennial writers as well as elderly and established writers of the Grand Forks area. Taking the funds they raise from their stories, VOTV donates to charitable organizations every year.
"Our first year, we had local millennials write article/stories about elderly citizens in town," Co-director of VOTV, Erin Kunz, said. "So we had them work together, and donated the money to the writers conference. Our second year we wrote about new Americans, so we donated those funds to Global Friends. Last year, we wrote about sense of place and environment and donated those to the River Keepers of Fargo."
Funds from any of the stories associated with VOTV about the flood will go to the Empire Art Center. Hill believes art is in deep waters and may be in need of saving.
"Especially with the political climate right now, art is definitely on the line with funding issues," Co-director of VOTV, Emily Hill, said. "I think it's extremely important to support local art. Local art makes our community beautiful and it can also connect people in unique ways. So I think we need to pay closer attention and appreciate what's being created by artists everywhere."
The event dedicated to showcasing the VOTV stories, was hosted in the Memorial Union Ballroom from 6 p.m. to 8 p.m. Thursday evening. The Writers Conference event took place over the course of three days, beginning March 22 and concluding on March 24.
This years theme was quite personal for Hill, as she was directly impacted by the effects of the flood.
"I lived in Grand Forks during the flood of '97," Hill said. "I was 11 years old when that happened. We lost our home in the flood and my family still talks about it. So instead of interviewing someone to get their voice, I was able to experiment with my own voice using what I remembered."
Although Hill has her own voice and her own memory of the event, both her and Kunz enjoy reading and listening to others tell the story from their perspective.
"The theme of this conference is 'citizen,'" Kunz said. "So they've been talking a lot about the power of just simply telling your story. Just having people know your experience as well as knowing others, it's really humanizing. It generates empathy for one another and over creates a better communal society."
Hill and Kunz are both UND alumni, both graduating with degrees in English. They started the Voices of the Valley project together and are very happy they are able to return and participate at these annual Writers Conferences.
"I actually got my masters in English here at UND," Hill said. "I feel like I sort of grew up as a writer through the Writers Conference. It's incredible to be invited and actually have a slot for my own writing as well as other stories that we're editing."
For more information on VOTV, you can visit their page on the Writers Conference site. Both Hill and Kunz encourage locals to participate and submit their stories for future installments.
Sheldon Hatlen is a staff writer for The Dakota Student. He can be reached at [email protected]