The music behind the men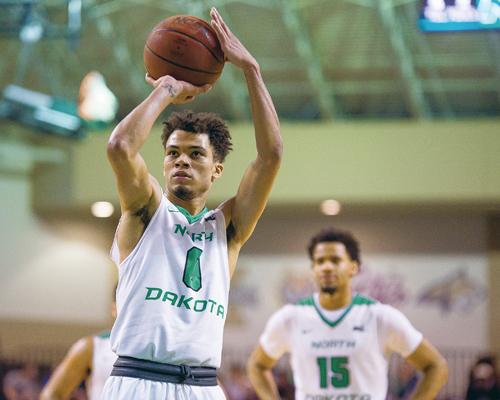 If you've ever played a sport you know there's one thing you can't live without before your game. It's your pregame playlist.
The pregame playlist is essential to any athlete. It can get you riled up, calm your nerves or get you in the zone. No team is complete without their playlist blasting through the PA system and no athlete is complete without their personal playlist blaring through their earphones.
For the UND men's basketball team, Geno Crandall and Roderick Bernstine are the two men in charge of the Hawks pregame pump up.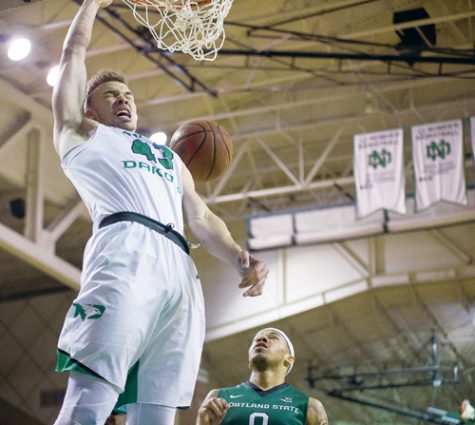 "Me and Geno will switch off," Bernstine said. "It's been between me and him most the time. We'll switch off after practice too."
Bernstine was quick to mention how the responsibilities of the playlist is no small task saying it's an eight on a scale of one to ten of seriousness.
"It gets a lot a people fired up," Bernstine said. "You got to get music that's not only popular but everybody knows so it gets everybody going. You can't have the slow jams for too long."
"There's a couple everybody wants to hear," Crandall said. "It evolves throughout the year when new songs come out we put it on and take some off if we get tired of hearing it."
However, there are some boundaries for the team playlist in terms of types of music not allowed.
"We try to stay away from country," Crandall said. "Nothing against country it doesn't get us as hyped up as some other choices or even when we want to mellow out. We just have a genre we lean towards."
Bernstine also added, "I really don't like rock 'n' roll at all. Even when they play it over the intercom I hate it."
For Crandall, his individual playlist before games isn't much different from the team's pregame playlist while Bernstine's playlist is tweaked a bit.
"The playlist is usually different," Bernstine said. "I listen to slower music like and Drake and older songs. Right before I take off (my headphones) I'll play something fast like Future."
Some say there's superstition with the music you play before the game. It can be bad luck to change even one song. For the now Big Sky regular season champion Fighting Hawks, that's the case.
"The playlist we play on the court for warmups hasn't changed since our first game here this season," Crandall said.
After the win on Saturday against Portland State, UND clinched its first ever Big Sky men's basketball regular season championship. No doubt celebrations were in order, Crandall gave a little preview of post-game celebrations.
"We like to get dance music going," Crandall said. "Little celebration mode but nothing too crazy."
There's one song that team has been listening to all season which is Crandall's favorite song: "Champions" by Kanye West.
"We listen to that a lot in the locker rooms before and after games, it's one of those weird songs where it seems everybody likes it. It's morphed into something we can rally around. Especially the idea of champions," Crandall said.
Not one to speculate but there was a good chance that in the locker room Saturday, "Champions" was blaring through the speakers for the now Big Sky regular season champion Fighting Hawks.
Jack Harvey is a staff writer for Dakota Student. He can be reached at [email protected]