Preparing for the NCHC playoffs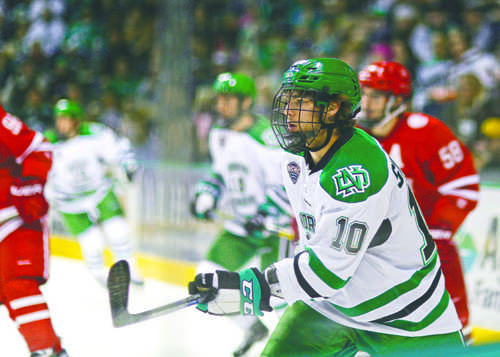 As we come down the stretch of the 2016-17 UND hockey regular season, the attention is now pointed towards one thing; the playoffs.
The NCHC playoffs are right around the corner as regular season standings fall into place. Things will be different for UND this time around. Sitting in a tie for fourth, it's safe to say first place is out of reach. UNO trails first place Denver by a whopping 24 points in the standings. This will end the Hawks' reign as regular season champions after two straight years of being the top dog.
Speaking of dogs, Minnesota Duluth is still looking to pass Denver at the top of the standings with two games left. They currently trail the Pioneers by four points.
As for Denver, they simply cannot be stopped. After a loss to St. Cloud State back on Jan. 1, the Pioneers haven't lost any of their next nine games. This isn't one of those fluke streaks either where they haven't lost since a certain date; they've tied three of those games. Denver is on fire, as they go to Nebraska-Omaha to push it to 10, maybe even 11, without a loss.
Western Michigan currently holds the three spot in the NCHC, trailing behind Denver by 14 points. They've been able to win against NCHC opponents, including a recent sweep of UND a couple of weeks ago.
While it's a two team race for the top spot, several teams are trying to get home-ice advantage for the first round of playoffs. North Dakota currently holds the fourth spot which would give said home ice but teams are breathing down their necks ready to take that spot. Currently, the four through six spots are separated by a point. UND and Omaha have 29 points and St. Cloud State has 28.
There's an unwritten rule in baseball where you don't want to scoreboard watch as the playoffs loom near. But if you're one of those people who want to keep tabs outside UND's visit to Miami(OH),  it's important to know who's playing who and who to root for.
The University of Minnesota Duluth (UMD) will travel to Western Michigan this weekend for the said final push but should be met with strong resistance since last time the two played they split. Nebraska Omaha and Denver square off against each other. For the onlooking fan, this one is a double edged sword.
Either Denver sweeps, helping out UND, but then they win the NCHC or UNO sweeps and has a chance to take the fourth spot. It's your call what you prefer, but if you want to see UND play at the Ralph another time this season, swallow your pride and cheer for Omaha.
As for St. Cloud, they will host Colorado College to finish off their season. St. Cloud was a bully last time they played, sweeping the Tigers 7-3 and 4-1. The Huskies will look to finish them off again to get that four seed.
It's difficult to determine what will happen in the standings as we near the end. For the top two, both UMD and Denver have been playing well all year. Denver's win streak was catapulted after sweeping UNO 5-3 and 5-0.
They'll be looking to end their regular season on an 11 game win streak no doubt. As for UMD, they've been limping towards the finish line. In the past three series, the Bulldogs have won one and tied one in each. Unfortunately for them, there's no ties in playoffs.
As for the fourth seed, it's tough to point at one team and predict they will win. Omaha has been struggling going a measly 2-5-2 in their last ten games. The last time they played Denver, Omaha got swept, letting five goals in both nights.
The Huskies have been better. They've gone 5-5-0 in their last ten and they're coming off a sweep by Denver and will be looking to bounce back against CC. The Hawks have gone 3-7-0 down the stretch and have a tough task ahead against Miami to secure the home ice.
After looking at all this, it seems like there's a clear cut winner and fourth seed for the NCHC. Denver will continue to ride the hot hand and win the NCHC regular season title. As for the fourth seed, I think St. Cloud State will take the final spot as they play last place Colorado College in an attempt to secure home ice for the first round of playoffs.
Jack Harvey is a staff writer for Dakota Student. He can be reached at [email protected]