Heading down the Gopher Hole
Hawks head to Ridder Arena for the redemption against Gophers
After a tough sweep against Minnesota Duluth, UND Women's Hockey team will look to bounce back against another big rival, the University of Minnesota.
The Hawks were on the wrong end of a low scoring series as both teams combined for five goals scored on the weekend with Friday's game resulting in 2-0 and Saturday being 2-1.
"We needed to be more aggressive attacking the net," head coach Brian Idalski said. "It really felt like we were a  little bit too cute the first night but the second night we started to put more pucks on the net. "
The silver lining in the sweep was the performance in net by Lexie Shaw. Shaw was able to stop 33 shots that came her way on Friday followed by 20 saves on Saturday against the second best team in the country.
"
Any weekend we have the same mentality, we got to go in there and we got to show that we deserve to win. It's just like any other weekend.
— Gracen Hirschy- Women's hockey defenseman
Shaw has been consistent all year boasting impressive numbers such as a .933 save percentage and 1.53 goals allowed a game average.
All time versus the Gophers, Shaw has a 1-2-2 record with a 3.10 GAA but holds strong with a .914 save percentage in five games.
Offensively for the Hawks, Ryleigh Houston has been the go to girl offensively leading the way with 20 points with six goals and 14 assists. Amy Menke and Emma Nuutinen are also tied for most goals for the team with eight goals each.
"It was a little disappointing," senior defenseman Gracen Hirschy said. "We had the shots, we had the chances, we just couldn't find the back of the net."
As for the Gophers, they'll be looking to keep momentum going into this week after dismantling Mankato State with an offensive attacked 5-3, 5-0 sweep.
This will be the second time the two teams meet this season. Last November the two met and weren't able to gain an advantage on each other. Both games ended in a tie however the gophers came out  with the extra point, winning in the shootout both matches.
With the two ties, the all-time record between the two rivals currently stands with Minnesota having a demanding series lead of 49-8-3 against the Fighting Hawks.
Since the matchup, both teams have gone down different paths. UND hasn't been able to get any momentum going having gone 7-7-2 since. As for the Gophers, they have gone 11-4-1 since.
"Any weekend we have the same mentality," Hirschy said. "We got to go in there and we got to show that we deserve to win It's just like any other weekend."
With those games considered, the Hawks currently are floating over .500 with a 13-11-6 record. Within WCHA, UND currently sits at fourth place with a 10-9-5 record in conference play.
"I think it's going to be pretty similar, they skate very well and one of the things we did well was to play with a lead," Idalski said. "That's going to be super important heading into this week and if we can do that it makes the game a lot easier."
For Minnesota, they currently have a 21-5-3 record this season with a WCHA record of 17-4-3, that is good enough for second place in the conference behind Wisconsin as well as fifth ranking in the country behind number one Wisconsin, number two Minnesota Duluth, third ranked St. Lawrence and fourth Clarkson.
The Hawks will be looking to either help one stat or end another. The Fighting Hawks are undefeated this season with a 13-0-3 when scoring the first goal of the game. However, they own a 0-11-3 record if their opponent scores before them.
"You always want to expect a win but it'd going to a battle no matter what," Hirschy said. "We just need to get shots to the net it's a big goal for us, to convert shots into goals."
Another trend the Hawks will look to work on will be their 4-27-1 record as the visitor to the Gophers with progress already being made after splitting last year's series on the Gophers home ice.
Either way the Hawks will look to silence the home crowd at Ridder Arena this weekend in Minneapolis. Puck drop is scheduled at 7:07 p.m. Friday as well as 4:07 p.m. Saturday.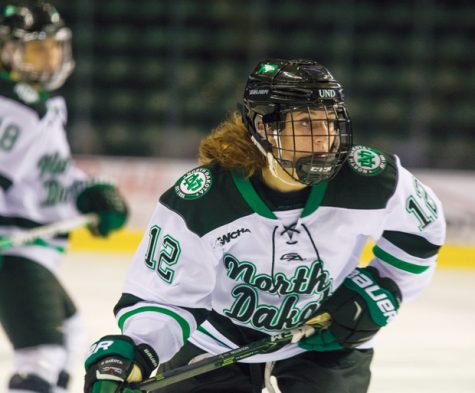 Jack Harvey is a staff writer for Dakota Student. He can be reached at [email protected]