UND comes out swinging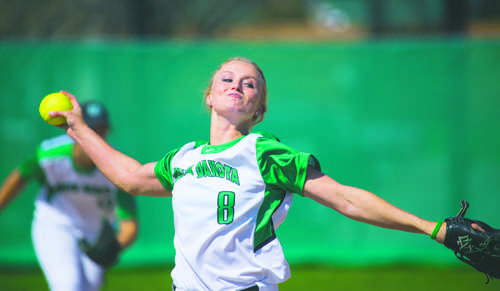 Jack Harvey, Staff Writer
February 18, 2017
Hang on for a minute...we're trying to find some more stories you might like.
Fighting Hawks start softball season with best record since moving to Divison 1
The UND Fighting Hawks softball team will be looking to keep improving from their 17-37 record last season as spring tournaments get under way.
"Getting stir crazy inside, so it's going to be nice to get out on the field," third year head coach Jordan Stevens said. "We have ten new people on our roster this year and a new coach. It's exciting things ahead for us. We're going to be young and inexperienced, but hopefully that'll lead to some exuberance on the field."
The goals set for this young team, which features nine freshman, were made clear by Stevens.
"Same expectations we've had for the past two years although we haven't met them," Stevens said. "The first one is to get into the (Big Sky) tournament and gives us a chance to win. We look a lot better this year. I'm really excited for this group."
On the topic of such a young squad making an impact, Stevens was quick to point out that the first game will have six new players in the starting lineup.
This was back on the first of February. After going 4-1 in the LA Tech Invitational, the Hawks look to be on the upswing.
The win against Samford marks the first time the Hawks have won their first game of the season since 2013.
"It was nice getting our first of the year in the opener today," Stevens said. "We were able to finally come around offensively and mount a nice comeback late."
After being blown out by host school LA Tech, UND came back to win the next four games to finish the tournament at 4-1, the best start in school history since making the jump to Division I.
The Hawks have been helped out at the plate thanks to freshman Angel Love and junior Taylor Nadler. Love currently leads the team with a .444 batting average as well boasting a .556 slugging percentage, a .688 on-base percentage, and has driven home three runs.
Nadler has been the muscle in the lineup thus far already going yard twice to start out the young season. The transfer from Valparaiso also sits at a .385 batting average as well as a .846 slugging percentage. She also earned the first player of the week Big Sky Honor.
In the circle, redshirt junior pitcher Kaylin VanDomelen has been lights out to start the season. She was recently named Madness Softball Big Sky Player of the week by College Sports Madness as well as Big Sky pitcher of the week.
VanDomelen threw for 14 innings this past weekend without conceding an earned run. She struck out a total of 13 batters, seven of which came in her complete game start against Incarnate Word, and also picked up her first career save.
She wasn't done there by being also being a pain in the neck against opposing pitchers. VanDomelen also batted .294 with five hits and also scored two runs and had one RBI over the weekend.
As the snow melts away, the Hawks will continue to take part in warm weather tournaments until conference play begins on March 25. Until then the Hawk will look towards this weekend as they will take part in the EMU Madeira Beach Spring Invitational at Madeira Beach, Florida.
Jack Harvey is a staff writer for Dakota Student. He can be reached at [email protected]