Frankenstein comes to campus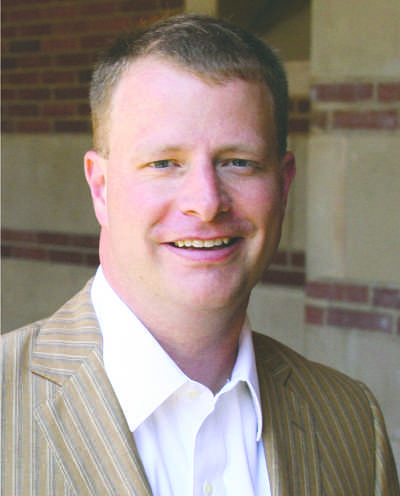 The School of Medicine and Health Sciences had a large attendance Thursday, Feb. 23.
"Frankenstein: Controversies Surrounding Scientific Advances and the Effect on the Human Community," was held in the Fee auditorium. The event featured a number of panelists from the university's faculty, discussing the Frankenstein story and what it means to them personally as well as several controversies over the years.
In addition to the panel discussion, an exhibit was available for viewing to those who attended. The exhibit itself took readers on a journey through the evolution of the 200 year old tale, beginning with Frankenstein's creator, Mary Shelley.
Mark Koponen, School of Medicine and Health Sciences; Yvette Koepke, College of Arts and Sciences English Department; Mick Beltz, College of Arts and Sciences Philosophy and Religion Department and Eric E. Johnson, School of Law, were the the panelists leading the discussion.
"The exhibit covers from the inception and ideas of Mary Shelley's life," Beltz said. "The creation of Frankenstein through a couple different places. Where we see time periods, where we see big shifts in how the book is received and how people are talking about it."
Each speaker brought something interesting to the discussion. Topics of controversy ranged from the medical ethics of test tube babies and transplants to a malfunctioning particle accelerator that could potentially destroy the human race.
"The idea of there being one Frankenstein story is a bit ridiculous," Beltz said. "There are lots and lots of different ways one can tell this specific story. To be able to hear the multiple perspectives is one of the reasons why I found this event so intriguing."
The event started at 6:30 p.m. and ended at around 8 p.m. Many who attended stuck around afterwards for refreshments and edibles.
2017 marks the 200 year anniversary of Frankenstein's inception. Beltz was quite excited to be apart of an event that celebrates the longevity of Shelley's story.
"When we think about the impact of any piece of literature, 200 years is a lot of time," Beltz said. "It has such a carrying power and such a pull that it has never run out of print since it has been published. It makes you think about where we see this work in the future. Frankenstein is a story that carries and hold themes that transcend any number of time periods."
Once the speakers concluded their individual presentations, they all gathered to answer questions asked by audience members.
When asked about what he wants students to take away from the event, Beltz provided a very genuine response in regards to students openness to discussion.
"We're hoping to provide an opportunity for the audience to think about how this affects our world," Beltz said. "We can't have small conversations. So I'm hoping this engages students to participate in larger discussions, whether it's about genetically modified crops or stem cell research, etc."
If any additional questions are in need of answering, the panelists of the event can be reached through the faculty page on the UND website.
Sheldon Hatlen is a staff writer for The Dakota Student. He can be reached at [email protected]