Senior send off against Ohio State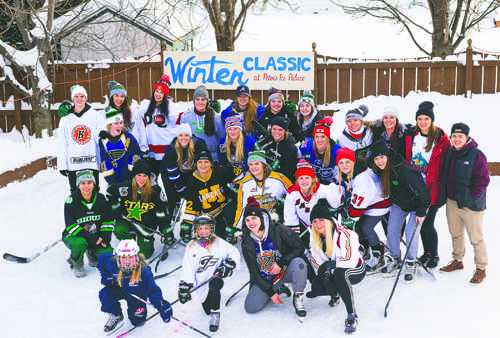 The UND Fighting Hawks women's hockey team is back home to take on the Ohio State University Buckeyes for one final weekend series of games before the WCHA playoff next weekend.
The Hawks (13-13-6, 10-11-5-3 WCHA) come off a stretch of disappointing road losses to the no. 2 University of Minnesota-Duluth Bulldogs and no. 4 University of Minnesota Golden Gophers.
The four losses to their WCHA foes ended the Hawks' hopes of gaining ground in the WCHA standings heading into the final games of the season and the WCHA playoff.
Instead, they will be locked into fourth place in the standings at season's end, regardless of what happens against Ohio State this weekend, which is good enough for home ice advantage in the first round of the playoff.
That being said, the Hawks want to finish out the regular season against Ohio State on a positive note, as they head into a WCHA playoff that will likely have to result in them winning the playoff in order to advance to the NCAA national tournament.
"It's most important to get a couple wins, get some confidence and feel good about ourselves and feel fresh and make sure we're energetic and excited for playoffs," head coach Brian Idalski said.
UND will look to ride senior goalie Lexie Shaw's solid play, as she has been one of the only bright spots during the Hawks' four game skid. During the losing streak, Shaw has allowed only 2 goals per game, along with a .921 save percentage, to teams that score an average of at least 3 goals per game. Shaw has been consistent all season long for UND, as she places in the top ten in goals against average (1.58), save percentage (.932), minutes played (1707:32) and shutouts (6).
Shaw will need help on the offensive end, as the Hawks have been in a slump as of late. Against the Bulldogs and Gophers, the Hawks totaled just five goals in four games. Forwards Ryleigh Houston (6-16-22) and Amy Menke (8-12-22) will be counted on to break the Hawks out of the slump against Ohio State, as they lead the teams in points, respectively.
"I just want to see us compete and play hard, it'd be nice if we put the puck in the net a little bit that was something last time around against them that we had difficulty doing," Idalski said, referring to their matchup with Ohio State earlier in the year. "They played really well, we had 44-45 shots in each game and we only came out with a couple goals."
While the Hawks look to take steps forward at home this weekend, the 12-15-5 Buckeyes (6-15-5-2 WCHA) seek to spoil the homecoming, as they look to climb to fifth place in the WCHA standings from their current sixth place position.
Led by top scorer Maddy Field (9-15-24), the Buckeyes are coming off three straight games that saw them gain points in the standings, including a shootout win against St. Cloud State, and most recently, a shootout loss and win in regulation against last place Minnesota State. The latest 4-2 win against Minnesota State gives them a good feeling heading into their final series versus UND.
"I think everybody played well," Ohio State head coach Nadine Muzerall said of her team's victory. "It wasn't just one line, there was a lot more depth. We were executing our breakouts better and moving the puck north. Last night there were a lot of times we were trying to over-handle it and congesting the middle of the ice in the neutral zone. Today we were moving the puck more around the perimeter."
While they won't be able to gain home ice advantage in the first round of the WCHA playoff by winning a series against the Hawks, they could jump to fifth, which would set them up for another matchup with the Fighting Hawks in the first round of the WCHA playoff rather than Minnesota-Duluth or Minnesota, who have had more successful seasons thus far.
"They know the importance of these next few weekends and the points because of the playoffs and the rankings," said Muzerall. "We all are fighting for that fifth spot. They are becoming mature about what is at stake and they are executing that and they are very, very excited about next weekend (versus UND)."
Earlier in the season, the Buckeyes took 4 of 6 points at home against the Hawks. 3 of those points came in a 2-1 victory in which Ohio State goalie Kassidy Sauve stopped 43 of 44 shots. Yet, this time around the Hawks look to use home ice to their advantage to finish the season out on a high note.
This weekend's games will recognize the seniors, as they take the ice for their last regular season home games of their collegiate careers. Seniors include Menke, Shaw, Gracen Hirschy, Jordan Hampton, Marissa Salo, Kayla Gardner, Halli Krzyzaniak, Annie Chipman and Lisa Marvin.
Making for an emotional weekend, the fans at the Ralph will bid farewell to the nine seniors, a bittersweet moment for not only the athletes but coaches as well. As Idalski and the coaching staff say an emotional goodbye to another class of amazing seniors, he admits there's no easy way about it.
"I don't know if any coach has figured that out besides picture day and senior night those are black holes, emotionally," Idalski said.
Game one between the Hawks and Buckeyes will take place on Feb. 17 at 7:07 p.m., while game two will be on Feb. 18 at 1:07 p.m. Both games will be played at Ralph Engelstad Arena.