Summer sessions
UND Athletes give their summers to their sport
Since joining the Big Sky in 2012, the UND women's soccer team hasn't had the success they've wanted. In fact, the team has a 9-57-6 record in five seasons with the conference, bad enough for the worst conference record during that stretch and four years spent at the bottom of the Big Sky.
Katie Moller, a UND captain and forward, has taken part in two of those losing seasons, experiencing the disappointment of losing firsthand. Nevertheless, heading into her junior season, she is not letting the past discourage her from what the future holds.
"The past couple of seasons before Coach Logan came in, a lot of people were losing their passion for soccer, they were losing their willingness to work because they love the sport," Moller said. "It definitely was hard to get people to play, get people to work, but having him (Coach Logan) come in and just this new start and the fact that he wasn't hard on us and he was super positive. It made us want to work more. He re-sparked that love for soccer that a lot of us had lost."
Moller notes the large difference newly hired head coach Chris Logan has made on the program since arriving last December. The Stoke-On-Trent, England native has brought positive vibes to a women's soccer team that was in desperate need of something positive after years of losing.
After spending four seasons with North Dakota State, three as an associate head coach, and one season as head coach with Northern Iowa, Logan's track record has the girls optimistic. In fact, he took last year's Northern Iowa team from second-to-last in the Missouri Valley Conference to third, including a conference best regular season finish.
Based on spring results, including two 5-0 wins over Moorhead State and Minnesota Crookston and a tie to North Dakota State, Logan has created an environment the team can flourish in and is happy with how far the team has come in a short time.
"We want to see them play with belief," Logan said. "We want them to believe in themselves as people, as students and as athletes. That's something that has really come a long way this spring, just the confidence and passion for the game has come back. It's made the girls a lot of fun to watch."
Before getting their last chance to prove themselves in the Big Sky, the team will head into an important summer of training. Contrary to popular opinion, the summer is not an offseason for the girls, but an opportunity to work.
"We talked with the girls this spring that this is going to be our last year in the Big Sky," Logan said. "Let's give it a good go, let's make sure that every game we go out confident, believe in ourselves, have fun, be competitive, and see what happens after each and every game."
While they are allowed to head home for a few weeks after the school year, most get a gym membership or workout at their former high school to stay in shape. Come mid-June, most of the team heads back to Grand Forks to start captain's practices ran by the players and work with strength coach Sean Fantuzzi, as NCAA regulations do not allow the team to work with coaches until a couple of weeks prior to the fall season.
The typical workday runs from 7 a.m. until 11:30 a.m. over the summer, and although it's voluntary, the players and coaches know the importance of putting the work in over the summer and being ready for the start of the season in August.
"We want to come in ready to get after it in the preseason," Logan said. "We want to make sure they have had a good strength program over the summer, where they come in nice and strong because the college game is very physical. Mentally, we want the girls to come in with a positive attitude. We want them to come in with confidence and excitement about the game for the fall."
Moller added: "We are very motivated to work hard, pass the fitness test, get as good at our little skills as we can over the summer. We definitely want to come back this fall and make a statement as our last season in the Big Sky because we are so close, there are so many games that one little thing here, one little thing there would have won us a game."
One would think staying motivated over the summer would be tough, but actually, it is quite the opposite according to Moller.
"I think everyone would agree that summers are the best because it's so relaxed, there's no competition dates coming up, there's no deadlines. Every morning you're getting up, getting a workout in, then you have your whole day in front of you," Moller said. "Some of us take classes, some of us coach, but basically we have the whole day in front of us so we are all up, we are all motivated to get it done, we all feel great after the workout, all feel great getting some touches in during the day, feel like we are doing our job."
"We are all there because we want to be. I think that's why it's more fun is because you are not there because you have to be, but because you want to be. It has to be voluntary over the summer, so it's that inner desire that I want to be here, that makes it more fun," Moller said.
As the team works over the summer, they will have their eyes set on the day they report to coaches in early August. Then, they will start two-a-days that will consist of eating breakfast at 7:30 a.m., getting on the field for first session at 9 a.m., eating lunch around noon, getting on the field for second session in the early afternoon and finally, having dinner and a team activity in the evening. Yet, the more in shape the team comes in, the more likely the players will either get a day off or have the practice schedule condensed to one practice a day.
That being said, the practices will allow the team to perfect a new style of play under Logan, one that is flexible to change.
"I think it's hard to put square pegs in round holes," Logan said. "Some coaches are different, they have a certain way of playing and that's the only way they want to play. I prefer to look at the strengths of our team and build around that and create a couple of systems within that framework."
Most importantly, preseason practices and activities are an opportunity for the team to grow together and change the culture of a program that has moved in a negative direction for far too long.
"I know we can win, but that's not my biggest priority. My biggest priority is that people get on that field and they love what they are doing again," Moller said. "Yeah, it'd be great to get a Big Sky bid, win the conference, but my biggest thing is I want people to have fun playing soccer again because overall, it's just a game. I want our numbers to go up, that's true, but I just want people to be happy because I think we had lost a lot of that."
With a renewed passion for the game, Logan knows it has the power to change this team's destiny, and he could not be more confident in his team's ability to make that happen heading into next season.
"When you enjoy your soccer and you're confident in your abilities, that's when you reach the summit of your potential," Logan said. "We have a good group here, we have a lot of talent. I'm very confident we can compete, I have no doubt about it. The biggest thing we want to see is the girls competing with that confidence and that level of belief and passion and we will see how far we can go."
Being an athlete is a year round commitment, not just in-season strides and with a new coach, the same goal and a lot of dedication the soccer team hopes to achieve greatness in their upcoming season.
"We are the ones that decide how far we can go. We made that decision ourselves as individuals and as a group and hopefully we made the decision as a group that we will go as far as we possibly can" Logan said.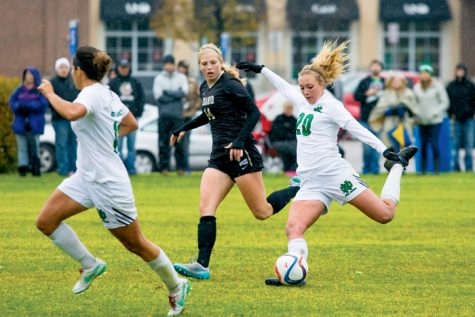 Jake Andersen is a staff writer for Dakota Student. He can be reached at [email protected]