Double trouble
Faith Dooley joins UND Basketball squad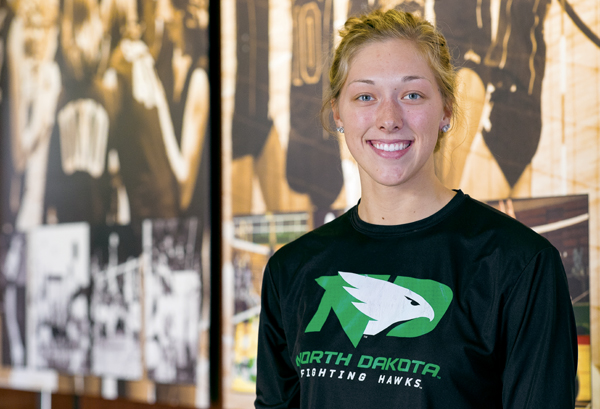 As a three-sport high school athlete, Faith Dooley dreaded Sunday mornings. Sure, it was an off day from school and sports, but in reality, it was far from off. In fact, it was another workday, a workday on the family farm.
"You wake up and dad's like you got to go do stuff outside," Dooley said. "When I was younger, I thought that was totally ridiculous like I'm tired and I don't want to do it."
While Dooley did not understand it at the time, she's learned to admire the way her parents, Joe and Kari, pushed and shaped her into the star UND student-athlete she is today.
"It was, you work for what you get, so that's been my mentality my whole life," Dooley said. "Looking back at it, I'm glad that my parents pushed me to do hard work even on your off days because I can push through the hard things that life gives me, sports give me."
Dooley, a soon-to-be senior at UND, looks to carry that strong work ethic into a life of no off days after making the decision to become a multisport athlete this spring. As one of the university's top volleyball players of all-time, Dooley plans on finishing her last season of volleyball in the fall and then, transition to a season of basketball in the winter.
As a collegiate athlete with five years of eligibility, Dooley will get two seasons with the basketball squad and in her view, it was an easy decision to make.
"Coach Brew talked to Mark and he brought it to my attention," Dooley said. "My initial thought was I might as well do it while I'm young so I don't ever look back and say I didn't do it. It also gives me the chance to go to grad school and get my grad school done with and I might as well play while I'm here."
Dooley, a native of Wheatland, N.D., played basketball along with volleyball and track, at Central Cass High School and was a highly recruited basketball player following a senior season in which she placed second in the North Dakota Miss Basketball voting by averaging 21 points, 12 rebounds and six blocked shots per game. As a junior and senior, she led her team to the state tournament, albeit in losing efforts to Bishop Ryan in the championship and semi-final games, respectively.
That type of success caught UND women's basketball coach Travis Brewster's attention, prompting him to talk with Dooley and her parents about playing basketball at UND. Although Dooley decided on volleyball, Brewster has always seen basketball potential in Dooley and is glad to have her aboard.
"I remember watching Faith play high school basketball. She was a highly-touted volleyball recruit for Coach Ashley Hardee," Brewster said. "Faith was also a gifted athlete on the basketball court, that could become a force if she developed her skills, because Faith has a tremendous work ethic. Faith has uncanny leadership abilities and it's rare to have a multisport athlete of her ability."
While Brewster finally gets the chance to work with Dooley, he will have to wait to fully incorporate her into team activities, as her main focus heading into next year will be on continuing the success of UND's volleyball program in the fall. After a season that consisted of a Big Sky Conference championship, as well as the program's first-ever NCAA tournament appearance, the volleyball program is ready to build on that special season.
As a team-first player, last season holds a special place in Dooley's heart and she hopes that her final season with the team will be just as special.   
"A lot of people ask me about it (last season) and honestly, it's like a dream that happened and you can't remember the specific details because it was a dream that you've dreamed of since 7th grade," Dooley said. "It was awesome. I love my team. I'm excited to see what we have this year since we only lost one senior. I had a great experience last year and I will never forget it."
"Personally, I want to give my team everything that I have. I am going out with everything that I have left in me. It's my last season. I'm not afraid to beat my body up the last year. This year is going to be the longest and hardest to get through because I will be playing two collegiate seasons, but I'm not going to let that slow me down."
On top of her team success, Dooley has had historic individual success in her three seasons as a middle hitter for UND. Currently, she has 1,300 points, good enough for sixth all-time in the rally scoring era at UND, and also has a .308 career hitting percentage that ranks second best.
In the fall, Dooley looks to break the all-time UND career blocks record held by Karla Danielson, only needing 12 blocks to pass the record of 488 set in 1991. While Dooley finds the feat humbling, it's not something she looks too heavily into. 
"I've always been a person that doesn't really care what my records are," Dooley said. "It's awesome to break them and be like cool I'm leaving that legacy, but I always think of myself as part of a team. I definitely think it's awesome giving that to the program and accomplishing that though."
As Dooley seeks to transition her success on the volleyball court to the basketball court, she feels that she has much to offer her new team.
"I definitely have height, obviously," Dooley said. "I know I'm going to be a little rusty, but I can bring some height down low. I do have strong defense, so I definitely think I can add to that. In high school, I was really good at blocking, so we will see if that transfers over. I think that the defensive aspect and height will offer some things and rebounding on the offensive end." 
"As far as leadership, I have already talked with one of the leaders of the basketball team, offering some of my leadership experience I have from volleyball. I definitely understand me being new and coming in that I might not really be that leadership role, but I know that I can offer some things that I've learned in the past to their leaders."
At 6-foot-3, Dooley will likely play center for UND and will be relied on to help replace graduating senior Samantha Roscoe, who led the club in blocked shots last season with 1.7 and played a strong defensive role off the bench. Along with rebounding, Dooley should produce well in those areas, especially considering her volleyball experience.
"As far as hand eye coordination, there's a lot above (in volleyball), so it helps transfer to rebounding and blocking, just because you gain and develop that coordination above your head," Dooley said. "In high school, I was always like why do they always compare my volleyball stuff to basketball, it has nothing to do with each other, but the more I experience it, you definitely become coordinated in the upper half of your body."
On the other hand, Dooley knows her dribbling and perimeter shooting are weaknesses, but she is willing to put in the hard work over the summer and fall to improve and be ready for a basketball season that UND hopes will end in another regular season conference championship and a shot at the NCAA tournament.
"My main goal is to offer as much as I can to the team and program," Dooley said. "All of the players are willing to work with me to begin with. They have already asked me to come in and shoot and we are going to play early this summer, so I can get into it. One of my goals is to be ready by when season starts next year. That will be my first goal, to get that base and foundation so that I can play."
In her two seasons playing basketball at UND, Dooley will pursue a master's degree in exercise physiology after graduating in December with a bachelor's degree in kinesiology. With the master's degree, she plans on becoming a personal trainer or strength and conditioning coach and has an interest in working with the elderly or pregnant population.
While taking on volleyball, basketball and graduate school seems like it would come with concern, Dooley approaches it differently.
"It's not a concern," Dooley said. "I'm excited, I never really see challenges as a fear. I'm always excited because I don't like to give up on things and I love when people challenge me. So, I see challenges as exciting events that I can do."
In reality, fans may be more concerned about whether Dooley's green, sparkly headband makes its way onto the basketball court after becoming a customary worn item in volleyball matches.
"In basketball, I don't necessarily like to wear headbands because they fall off," Dooley said. "It's more of a contact sport, people are constantly hitting your headband and I'm a perfectionist so I don't like when my hair is messy, so I don't know, my sparkly headband probably won't come with basketball."
Even so, fans will just be happy to see the volleyball star make her way onto the basketball court, as she continues enhancing her legacy as one of the top UND athletes of all-time.
Jake Andersen is a staff writer for Dakota Student. He can be reached at [email protected]