UND bids farewell to Boeser
Fighting Hawks forward Brock Boeser signs with Vancouver Canucks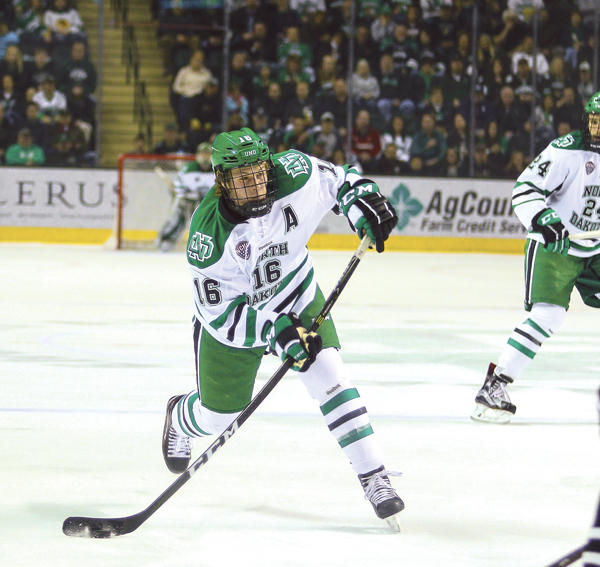 Brock Boeser wasted no time getting acquainted with his new team.
Just a day after his UND squad lost a heartbreaking NCAA quarterfinal game to Boston University in double overtime, Boeser took his talents to Minneapolis, Minn. to take on the Minnesota Wild as a member of the Vancouver Canucks.
The Canucks signed the star UND forward to a three-year entry level contract and threw him into his first NHL game in his home state, starting him on the first line alongside superstar twins Henrik and Daniel Sedin.
His play did not disappoint, as Boeser scored his first goal in a 4-2 winning effort over the Wild.
Of course, Boeser's strong first game comes as no surprise since UND is known for developing NHL ready players. Toews, Parise, Oshie, Zajac and Stafford, to name a few.
Yet, as Boeser continues to make his presence felt as the newest NHL member from UND, he is not the only former UND player that is starting his NHL career with success.
After last season's championship run, UND lost nine players, including five early to the NHL and as it turns out, a few have put themselves in position to have long, successful NHL careers.
With that, let's look back at those members of the 2016 UND championship squad that have already made their mark in the pros.
Drake Caggiula
After leading UND's 2016 championship squad in points with 51, Caggiula graduated from UND without being drafted by an NHL team. Nevertheless, his highly decorated UND career, including four straight seasons of increased point production (16, 24, 36, 51), made him one of the most sought after college free agent prospects in the country.
After weighing his options, including Dave Hakstol's Philadelphia Flyers, Caggiula settled on a two-year deal with the Edmonton Oilers in the beginning of May. At the time, Caggiula said that he liked the young roster as well as the opportunity to grow with a young team.
While it was expected that Caggiula would start his first professional season with Edmonton's AHL affiliate, Caggiula impressed Oilers coach Todd McLellan from the beginning.
"He's come to make the team, he's come to take somebody's job," McLellan said, talking about Caggiula with the Edmonton Sun. "I'm getting more and more confident in playing him every night in any situation. He's a very competitive guy, controls the pace of a shift, competes all over the rink, pays the price to get things done."
McLellan's comments came in the midst of a successful preseason for Caggiula that put him in position to be the team's third line center. Unfortunately, Caggiula injured his hip prior to the start of the season and was out for the first month of the year.
Once healed from the injury, Caggiula took his place on the Oilers roster right away in late November and scored his first goal of his NHL against the Anaheim Ducks on Dec. 3, eight games into his career.
"Sigh of relief. Nice to get that one out of the way," Caggiula said, discussing his first goal with the Edmonton Sun. "Obviously a dream come true, something you think about when you're playing in the backyard."
For the season, Caggiula has recorded six goals and 10 assists in 53 games. While he has had stretches of inconsistency, he has six of his 16 points in his last eight games, working his way into the Oilers' second power play unit. He has mainly been a part of the Oilers third and fourth lines.
Caggiula looks to continue to be a factor for the Oilers as they make their first Stanley Cup Playoff appearance since 2006 in April.
Nick Schmaltz
Caggiula's former linemate at UND, Nick Schmaltz, has enjoyed success as a member of the Chicago Blackhawks. Forgoing his junior and senior seasons at UND, Schmaltz signed a three-year entry level deal with the Blackhawks, who drafted him 20th overall in the 2014 NHL Draft.
Although signed to a highly successful NHL team, including the likes of Patrick Kane and former UND star Jonathan Toews, Schmaltz was promised an opportunity to start the year with the NHL club.
"They have salary-cap issues so they need younger guys to play," Schmaltz said to NHL.com reporter Brian Hedger after signing the three-year deal. "I think it's a great time to turn pro, and I think a lot of young guys are going to be in the NHL this year. Hopefully, I can work for a job."
Schmaltz worked his way onto the club as a left wing, yet struggled from the beginning posting only four points in 26 games. Through that time, Schmaltz saw time on the fourth line and even had the chance to play alongside Toews and Kane on the top line, but still was not able to break out. This prompted the Blackhawks to send the former UND star to AHL Rockford to improve his game in early December.
In 12 games with AHL Rockford, Schmaltz showed noticeable improvement as he scored six goals and three assists and was recalled to the Blackhawks a month after being sent down.
This time, Schmaltz started to find his place with the team, especially after the All-Star break. Since the break, Schmaltz has recorded 17 points in 22 games compared to seven points in 32 games prior to the break.
The strong play has Schmaltz on the top line with Toews and right wing Richard Panik. For the year, Schmaltz has six goals and 20 assists for 26 points in 55 games and will play in his first Stanley Cup Playoff in April.
Troy Stecher
Stecher signed a two-year entry level deal with the Canucks following UND's championship season that saw him lead the club among defensemen in points (8-21-29). Stecher signed as a college free agent since he was never drafted into the NHL.
"I signed pretty quickly with Vancouver but Drake went on the tours (cities) to see the facilities," Stecher said to the Edmonton Journal, referring to how quickly he signed compared to Caggiula. "At the end there were three (NHL) teams that were all good options but Vancouver had the extra factor of being home. Sometimes that can work against you, players don't want to do that but it's tough to beat the city of Vancouver."
Known for being a strong offensive defensemen, Stecher has provided that advertised offensive production in his rookie season. In fact, Stecher tops Canucks defensemen in points posting three goals and 21 assists for 24 points in 65 games, which is also fifth among rookie defensemen this season.
While Stecher started the year in the AHL, he joined the roster early in the season due to injuries to Vancouver defensemen and among last year's group of UND players that left for the NHL, he leads them in games played. He has also asserted himself on Vancouver's top defensive pairing.
Although he has a +/- of -10, Stecher has played 20:01 minutes per game, eighth among rookies, while playing on a young team that is near the bottom of the Western Conference at 69 points.
Most recently, Stecher injured his shoulder after taking a hard hit into the boards against the Winnipeg Jets on Sun. March 26, but reports suggest he will make it back to the team sooner than expected.
That being said, Stecher has a solid start to his NHL career and along with Boeser, he will look to lead the Canucks back to their winning ways in the near future.
Jake Andersen is a staff writer for Dakota Student. He can be reached at [email protected]