Vandals snap Hawks streak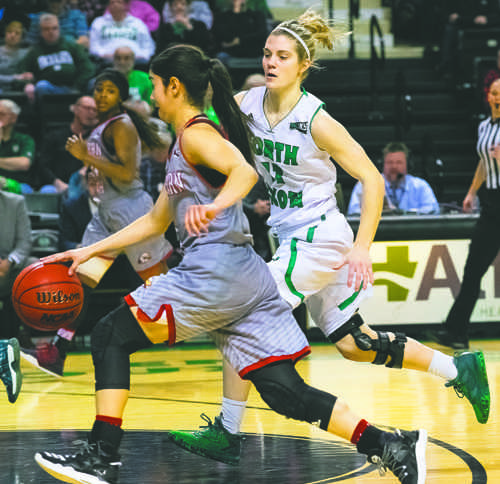 Jake Andersen, Staff Writer
February 14, 2017
Hang on for a minute...we're trying to find some more stories you might like.
The UND Fighting Hawks women's basketball team had their seven-game win streak snapped in a 74-61 loss to the University of Idaho Vandals in Moscow, Idaho Saturday, Feb. 11.
With UND's top four scorers shooting a dismal 29.7 percent (11-37) from the field, the Hawks (16-8, 11-2) were unable to get into an offensive rhythm throughout most of the game.
The only positive notes came from sophomore guards Grace Sawatzke and Bailey Strand. Sawatzke posted a career-high 11 points off the bench, while Strand shot four for five from the 3-point line for a team-high 12 points.
While Sawatzke and Strand had solid performances, they could not prevent the Vandals' onslaught, as the Hawks would fall behind early in the contest, mainly behind a strong performance from Idaho guard Mikayla Ferenz.
After shooting 60 percent from the field for 15 points in the first half, Ferenz and the Vandals (13-11, 8-5) would see themselves up 11 points at the break. With 8:31 left in the fourth quarter, the Vandals would extend that lead to 24 points.
Even with a last-ditch effort from the Hawks that resulted in them outscoring the Vandals 25-17 in the final quarter, the huge deficit could not be overcome, ending a 7-game win streak in conference road games dating back to last season.
"Idaho took it to us," UND coach Travis Brewster said. "It was a result from our practice the day before. I will make some adjustments for our next series of games."
While the loss dropped the Hawks to a three-way tie of first place in the Big Sky Conference, the victory for the Vandals proved to be huge after coming off a tough four-point loss at home to Northern Colorado, keeping them relevant in the Big Sky at 8-5.
"They [UND] come in with pretty much four posts players," Idaho senior Karlee Wilson said. "Some of us guards are guarding a post. We have to be able to block them out and rebound. We knew it was going to be a physical game and we were going to have to match their physicality from the start. I think we did that today."
Led by Ferenz's 27 points (11-20), along with 16 points from point guard Karlee Wilson and 17 points off the bench from guard Taylor Pierce, the Vandals piled on the points, but also put on a rebounding clinic as they outrebounded the Hawks 46-33.
"I thought Karlee had a monster game," Idaho head coach Jon Newlee said. "She kept us together. Her defense was fantastic. She distributed the basketball, finished at the rim and made all her free throws. Huge game from Karlee. I do not expect that kind of game from her every night, but I know what she means to our team. She showed up big time tonight."
While the Hawks came into the game as the second best rebounding team in the conference, Idaho head coach Jon Newlee knew winning the battle of the boards would be essential to beating UND.
"If you are going to beat North Dakota you have to win that battle or be close anyway," Newlee said. "I thought we really challenged our team to get on the glass after Thursday. They took it to heart. I thought as a team we did a fantastic job of getting on the glass."
As the Hawks move forward, they are looking at a three-game home stand in which they hope gets them back into the win column.
While the loss at Idaho is disappointing, they won their two prior games, both in conference road games, and still remain in a first place tie in the conference. As far as the Hawks are concerned, they are in the right place heading into the last five games of the season.
"This team has done a tremendous job on the road," Brewster said. "A three-way tie for first place is a good position to be in with five games left. It will be good to play at home again."
The Hawks next game will be against the Idaho State University Bengals at the Betty Engelstad Arena on Thurs. Feb 16 at 7:00 p.m.
Jake Andersen is a staff writer for Dakota Student. He can be reached at [email protected]