UND looks to stay on top
The UND Fighting Hawks women's basketball team seeks to continue their winning ways as they head to Moscow, Idaho to take on the University of Idaho Vandals on Saturday Feb. 11.
The Hawks (15-7, 10-1) are coming off a huge 57-51 win over the University of Northern Colorado Bears and are now tied with the Bears for first place in the conference with seven games to go. The victory extended the Hawks' win streak to six games, while pushing their win streak to 11 games in conference road games dating back to last season.
"It goes with our upperclassmen of understanding how important road games are," UND head coach Travis Brewster said, discussing his team's success in conference road games. "It's something we talk about at the beginning of the year and we try to carry it over."
Over their six game win streak, the Hawks have shown great strides on the defensive end. In their last six games, they have held teams to an average of 63.3 points, while holding teams to an impressive 33.4 percent (134-401) from the field, which is 3.1 percent less than the Big Sky Conference's leading team in defensive field goal percentage for the season.
"
They want certain things to happen. They are working towards that, that's attribute to them being a good team and being good teammates to each other.
— Travis Brewster- Women's Basketball head coach
Forwards Lexi Klabo and Samantha Roscoe have played big roles in the Hawks' defensive success, as they lead the team in rebounds per game (8.5) and blocks (38), respectively. Against the Bears, they combined for 19 rebounds and six blocks, helping the Hawks hold the Bears to only 51 points.
Klabo and Roscoe look to be just as effective on the defensive end against Idaho (12-10, 7-4), as they take on the Vandals, who are known to be a great shooting team. Currently, they are shooting 41.8 percent for the season, including 34.8 percent from the 3-point line, which is second best in the conference.
Idaho's success shooting 3-pointers  is mainly due to the outstanding play of sophomore guard Mikayla Ferenz. For the season, Ferenz boasts a 37.9 percent 3-point shot and a team-high 17.3 points per game. In a victory over Northern Arizona University this season, Ferenz shot 15 for 17 from the field, including nine of 10 from the 3-point line, as she went on to score 41 points.
As the Hawks look to continue their success in conference play against the Vandals, limiting Ferenz's chances from three will be key.
They will also be motivated to avenge two losses last year to Idaho, including a 92-65 blowout loss in Idaho. That being said, Brewster is showing confidence their work ethic and chemistry will keep them going heading into the matchup.
"They want certain things to happen. They are working towards that," Brewster said. "That's attribute to them being a good team and being good teammates to each other."
Tipoff will take place at 4 p.m. on Saturday in Moscow, Idaho.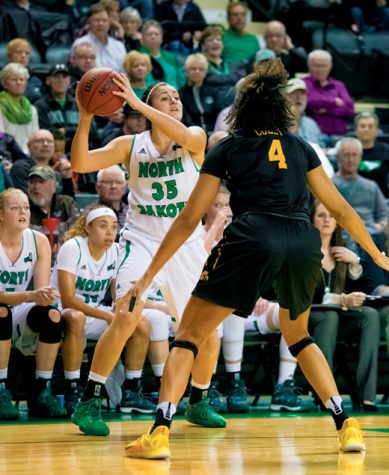 Jake Andersen is a staff writer for Dakota Student. He can be reached at [email protected]