Do you agree with Luke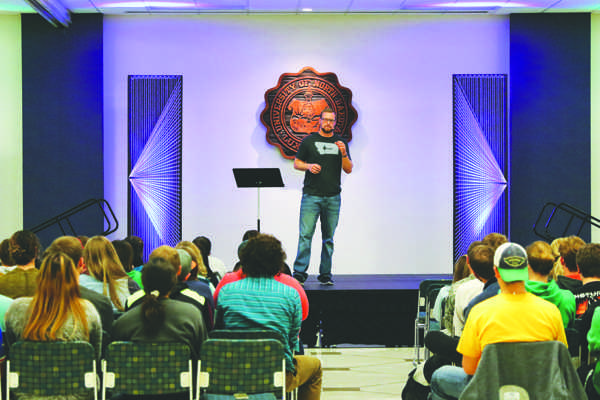 Do you agree with Luke?
These words have covered sidewalks, white boards and flyers for the past week. More recently, almost 100 students have been wearing bright orange 'I agree with Luke' T-shirts around campus.
But who is Luke and why is he trying to get people to agree with him? Enthused and frustrated students alike have been asking these questions for a while now.          
Luke Mathewson is a super senior majoring in history at the University of North Dakota. Most people know him as a tight end for the football team.
For some, Mathewson's beliefs are perfectly in line with that of their own. For others, his beliefs differ — either slightly or drastically — with the religious preferences they choose to hold. For members of Cru, an on-campus interdenominational religious organization, it was promoting who the group is and what they stand for in a way that was engaging for both the group members and UND community alike that Cru set out to do three weeks ago.
Cru collectively engaging with current and potential members or even skeptics of the group after the large build-up to Luke's speech Tuesday night.
Over the past three weeks, members of Cru formulated a plan to gain the attention of their student peers. The goal: get as many people as possible to listen up by attracting the attention of the entire campus with a question vague in its core, but simple enough that it would result in immediate understanding once specified, opening people's ears for an explanation.
"When people believe in Jesus and they're living for him, it gives them a foundation when they're encountering hard times in their lives. Everyone will turn to different things—some will turn to alcohol, others will turn to friends, social media or whatever—but when you believe in Jesus, it makes a big difference in how you view this life," Carl Juhl, sophomore and Cru member, said.
Megan Gowan, a student at UND and a friend of Mathewson's, introduced him Tuesday evening before he climbed on stage to give a talk about his journey through faith. Being a part of Cru, a religious organization on campus, for the past four years, Mathewson has learned a lot about the gospel and what he wants to do with it.
"It's the most important thing in my life and I want them to have that," he said, referring to the crowd that was beginning to fill the ballroom in the Student Union.
For Mathewson, the story of his life parallels in many ways with that of the disciple with the same name. Describing how, while being raised in a devoted Christian household, he found himself struggling a lot of the time to find his place in the church. Much of his childhood was spent finding ways to make it through the hour of church on Sunday or the few hours in youth group during the week.
Like most other young members of the church, Mathewson found his devotion to the church and his relationship with Jesus very limited. He was blocking out one of the most important figures in his life, especially during his first few months in college when times got tough.
"There were weeks on end when I was calling home with tears streaming down my face because I didn't know what to do—that's where I was. For those weeks, I was trying to avoid the whole situation. How could I keep living for all of this if I doubted it?" Mathewson said.
Despite the motivational words that held the attention of well over 100 college students, Mathewson explained how he is still constantly looking out for ways to improve his character and build stronger relationships with those around him and with his faith.
"I haven't arrived yet. I'm not up here speaking to you because I have it all together," Mathewson said.
In addition to Juhl and many other members of Cru, one of the most valuable parts of being a member of the organization is the relationships that are built within.
"It's been a really positive impact to have opportunities to do things outside of the football team. Like tonight's event has given me some awesome relationships with people different from those that I'm always around … Cru is open for anyone willing to share their thoughts," Mathewson said.
Now pursuing the path to become a pastor, as did eight of his relatives, Mathewson will be looking into seminary school after graduating from UND. But that wasn't always his dream.
"I originally wanted to teach and coach," he said. "I wanted to teach history and coach either football or basketball."
But then, after a mission trip to Belize, Mathewson found a different calling.
"I found so much more joy in teaching about God and the gospel than I did teaching history," Mathewson said, before laughing and adding. "And I love history, so for me to be able to say that was a big deal!"
As for the chalk on the sidewalks, the ambiguity was actually a part of the plan.
"It was a way to get the word out and really to get people talking about it," Mathewson said.
The t-shirts came after, as a way to promote the event and to get people asking questions.
Jonathan Bartels, a member of the leadership team in Cru, stated that there was a training session to go along with Matthewson's talk so that they would be prepared to answer those questions students might have. Then they were given flyers and t-shirts and told to go out and inform the campus.
"I believe that this event was beneficial to the campus," said Bartels, giving reason as to why he was willing to advocate for it.
Several attendees were members of Cru themselves, like Marta and Jessica Calequera from Angola, although the complete story of who Luke was and what his story was still was unclear.
"We heard a little bit about him," Calequerz said. "But we didn't know exactly what happened for him to change his life."
Marta agreed, adding, "We all can change."
After attending the event, both girls confirmed that they agreed with Matthewson, as did most of the students in attendance.
Rachel Cox is a staff writer for The Dakota Student. She can be reached at [email protected]
Declan Hoffman is a staff writer for The Dakota Student. He can be reached at [email protected]