Hall of famer Glenn Hughes visits UND!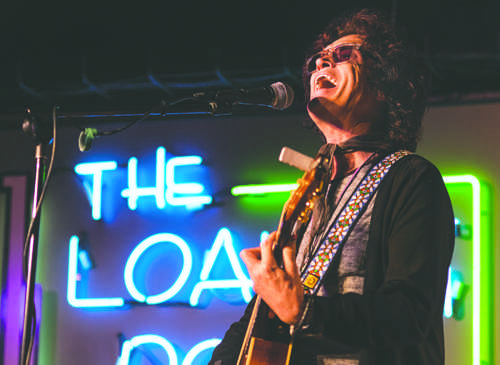 The Deep Purple vocalist opens up about his life and drug abuse
Singer, bassist and songwriter Glenn Hughes is a living, breathing embodiment of British rock with a compelling story.
Starting out in the '60s with beat combo Finders Keepers, he then tried funk-rock with the band Trapeze before joining Deep Purple at their commercial peak. Deep Purple found worldwide success in 1972 with their hit single "Smoke on the water" flying around the world in the band's own jet, Hughes enthusiastically enjoyed all the rock 'n' roll lifestyle had to offer.
To communicate his unique personal battle with alcoholism and drug addiction to the UND family and Grand Forks community, Rock 'n' Roll Hall of Famer Glenn Hughes came to tell his story at the Loading Dock, Saturday afternoon, in hopes that his gained wisdom could be shared with others.
Whether a recovering alcoholic or a young at-risk student, Hughes has made it his mission to do what he can to intercept those at risk before substantial issues begin to arise. The wisdom he has gained through his 65 years is something Hughes believes he did not have at a younger age and a quality many others could benefit from.
"My message to you all is that I hope you can hear what I'm saying and I hope you can understand that what I did helped nobody," Hughes said. "I've watched my friends struggle with the same disease and lost too many of them along the way."
Originally a member of the Trapeze before being recruited into Deep Purple to replace Roger Glover in 1973, Hughes has had a considerable amount of worldwide success with his rock career. He even became a member of  Black Sabbath is the early '80s.
Most famously known for the band's hit song "Smoke on The Water." Once quitting Deep Purple to form a band with Pat Thrall named after themselves in the '80s, Hughes became severely ill with addiction and eating disorders which together negatively affected his chance at any further success in the music industry.
"I don't remember anything about the '80s, Hughes said. I remember absolutely nothing. It's all just a blur."
About a decade after realizing Hughes faced real health issues and addiction, he announced to the world what he had been dealing with. He went through many stints of concluding he had recovered completely, contrary to reality.
Progressing through rehab for an extended period of time, Hughes found himself drinking again, but on Nov. 23 1997, Hughes sipped his last drink ever in an Amsterdam bar.
"There are two types of people on this planet: alcoholics and non-alcoholics. There is no in between … it is a terrible disease that needs to be treated," Hughes said.
Treatment continued for Hughes through the latter end of 1990 and it became clearer everyday what brought him the most happiness.
"Without guidance from above and without the channel that I'm given to give back to you, I don't know where'd I'd be today," Hughes said, "I am so supremely grateful to be on the green side of the grass to come from a loving family and one that was willing to be so supportive."
No matter the state of the world, Hughes explained, there is always a unifying force that has been the most effective solution for him. A force that has given him the gift of music, a force that he believes is just as powerful for countless other people experiencing similar challenges.
This April, Hughes was inducted into the Rock and Roll Hall of Fame as a member of Deep Purple and nicknamed "the voice of rock" by fans.
"Music is a healer and love is my answer."
Declan is a staff writer for The Dakota Student. He can be reached at [email protected]