Hispanic Heritage Month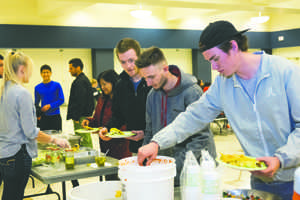 In the opening event of the year, Organization of Latino Americans' (OLA) newly appointed president Sami Chairez worked to revive the organization after the exit of graduated members.
At the Ballroom of Memorial Union on Oct. 19, a large turnout of UND staff, students and those of the surrounding Grand Forks community met to celebrate Latino culture over tacos and chips with salsa.
Accompanying the food and collaboration was a speech by Chairez to emphasize the effort put forth to get OLA running with the same enthusiasm it once was.
"Everyones been pretty excited to do an event because there aren't a lot of hispanic events that go on around campus or in town," OLA secretary Katie Scriben said. "Not nearly as many people have shown up to this event in past years, so this is a really good sign for the future of the organization."
Only three students met at the beginning of this academic year of to create a plan for the organization's future. Despite the long odds, Chairez was able to form a larger group, collect volunteers and make a Hispanic Cultural Night possible with considerable success.
"Everyone seems to be having a good time. A lot of people are talking and there are even a few faces in here I've never seen before," Spanish major Dylan Sullivan said.
The organization is significantly focused on promoting an on-campus awareness for the highly diverse Hispanic culture in Grand Forks, especially at UND.
The university's student body portfolio for the 2014-2015 school year revealed that Hispanics were the most populous minority group found at UND.
The population of Hispanics on campus consist of much more than just Mexican-Americans, but a vast array of cultures ranging from Spain to the Caribbean, explained Chairez.
"Especially in my experience, there has been very little known about what hispanic cultures actually are at UND and so I really wanted to let people know there really is a lot more hispanic diversity beyond just Mexicans," Chairez said.
Members of OLA have set organization growth as their highest priority for this academic year. A presence across as many multicultural events on campus as possible as well as pushing for a social media presence or other forms of advertising on campus are what Chairez thinks will be most beneficial for the organization.
She hopes to get OLA a more significant role in UND's Cinco de Mayo celebrations and be at all student organization festivals throughout the year.
"Most people around here don't get to experience things that a lot of other students do from other college campuses because UND's campus and the community isn't really as diverse as a whole so it's important to get to know people from other countries," Chairez said. "Once you're done with school and out in the real world, you'll be running into people of different cultures forever," Chairez said.
By the end of the night, it a was a link that everyone had in common that sparked the mood. Staff and students might have originated from a place far from Grand Forks, but ultimately they attend college together, live on campus together, study together and eventually will move on to work together.
"People don't really see a lot of culture before coming to college," Spanish major Dylan Sullivan said. "They tend to be sheltered, and it's nice to see all these people coming together to share their views … I've definitely learned a few things tonight."
Declan Hoffman is a staff writer for The Dakota Student. He can be reached at [email protected]