Music concert welcomes Kennedy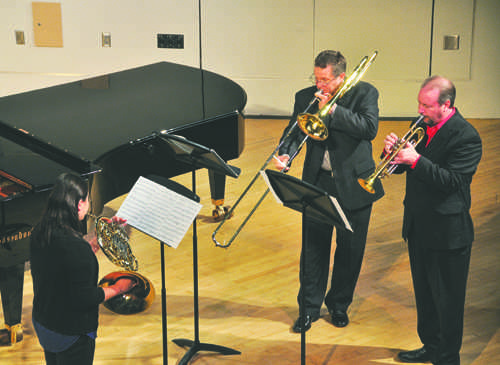 The University of North Dakota's Music Department welcomed President Mark Kennedy and his wife in a recital concert Friday.
The recital, held in the Josephine Cambell Recital Hall of the Hughes Fine Arts Center, lasted an hour and featured the faculty of the Music Department, part of the College of Arts and Sciences. While staff recitals are a common feature in the Music Department, this was the first one in the history of the program to be featured as an inaugural event.
Ronnie Ingle, Professor of Trumpet at UND for 10 years, credits Nariaki Sugiura, Assistant Professor of Piano and world-renowned player, for the idea of welcoming the 12th UND President.
According to Ingle, each song for the recital was chosen by the individual professors, and organized by Simona Barbu, the showcase coordinator who also played the cello in the concert.
"We did our own thing, and she put it all together", said Ingle. Katherine Norman Dearden, the Chair of Music Department, had said the final OK, and welcomed the audience at the beginning of the recital.
Ingle performed the first song in the program with the "Dakota Brass" trio, along with Miaoqian Liu on the horn and Dr. Joel Pugh on the trombone. The other faculty who played or sang during the recital, in no particular order, were Suna Gunther and Anne Christopherson as sopranos, Royce Blackburn as baritone, Keith Teepen accompanying Sugiura on piano, Lisa Bost-Sandberg on the flute, Thomas Anderson on guitar, Scott Sandberg on saxophone, and Mr. Michael Blake on the marimba playing with James Popejoy on the vibraphone (the only electrical instrument in the program).
Some highlights of the program were the duet of Barbu on the cello and Sugiura on the piano, Sugiura and Sandberg's "Urban Impressions" piece, Christopherson's take on "Metropolitan Scat", with Mr. Teepen on the piano, which drew laughter and applause from many present, and the explosive piano finale by Sugiura, playing "Superstar Etude No.1" with both hands and, amusingly, his left foot smashing away on the keyboard. Afterwards, cake was served at the reception across the hall, with audience members and players talking with the President and the First Lady.
The next program will be the First Student Showcase at 2pm on Friday, September 23 in the Recital Hall. Other information can be reached by contacting Simona Barbu via email.
Connor Johnson is a staff writer for The Dakota Student. He can be reached at [email protected]