Students come together to "do work" for BIG Event this spring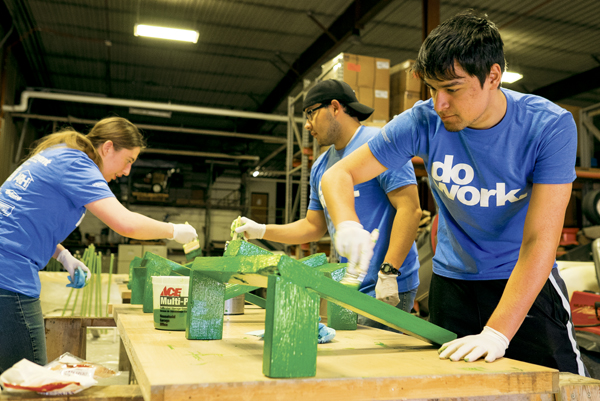 Over 900 students from the University of North Dakota participated in a day of community service on Saturday, April 29.
The day, known as the BIG Event, started at 9:30 a.m. at the Wellness Center and went on until 2 p.m. Volunteers received free T-shirts, food and the satisfaction of cleaning up the Grand Forks area.
"I think it really benefits the community," said Stephanie Frey, co-president of the BIG Event, "and it's just a great way to give back to them."
Frey, a communication sciences and disorders senior from Bemidji, was one of the student leaders along with her roommate Molly Vail, a biology senior from Elk River. Both seniors were on the committee for two years, but this was the first time they were in command.
"It's challenging, but it's a lot of fun," said Frey. "It has its rewards."
A total of 902 students were registered for the BIG Event, according to advisor Kristi Okerlund, up from 750 during last years event. Responsibilities for volunteers were generally cleaning and maintenance, such as cleaning gutters and windows, or raking yards. Along with elderly citizens' private residents, students were also assigned to churches, parks, and non-profit areas like The Salvation Army and the Myra Museum, part of the Grand Forks Historical Society. According to the Grand Forks Herald, over 120 job sites were selected for volunteers.
Volunteers could sign up as groups, such as the Forensic Science Club and Greek life housing, or could work individually.
The BIG Event was first created by Texas A&M University in 1982, and was picked up by UND in 2005. The Event is run by The BIG Event Committee, which works year-round to plan for each annual event. Sub-committees, according to their page on UND's website, include Promotions, Sponsorship and Volunteer Projects. The committee's goal is to "ensure that volunteers have a fun and fulfilling experience while building and sustaining positive relationships between the University community and the Greater Grand Forks community."
The BIG Event committee can be reached via email at [email protected]
Connor Johnson is a staff writer for The Dakota Student. He can be reached at [email protected]