The French Fry Feed was underpopulated this year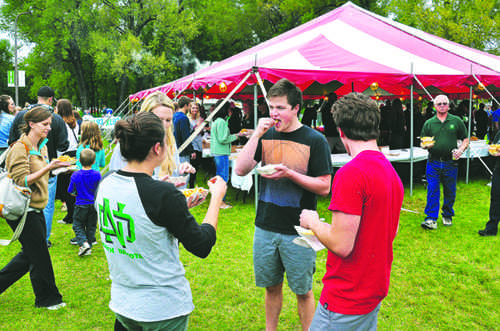 Grand Forks has a historically rich and beautiful relationship with potatoes.
In fact, the relationship goes back for more than 50 years, which is the main reason why the city of Grand Forks takes an entire week to celebrate one of the largest potato growing regions in the United States.
The celebration of Potato Bowl week was at full speed last Thursday night as the 51st annual french fry feed, courtesy the J.R. Simplot Co., took place in University Park.
The mouthwatering aroma of fresh cut fries filled the air as organizers of the world's largest French Fry Feed geared up to serve a total of 5,070 pounds of fries to the hungry fans gathered in the park.
In addition to the free fries, the feed featured live entertainment, meet and greet with UND football players and staff, a french fry eating contest and Potato Bowl mascot, "Potato Bowl Pete."
The French fry feed is something many students and members of the community look forward to every fall, and this year, it is estimated that over two and a half tons of french fries were consumed.
However, unlike previous french fry feeds which were always enormously popular, Thursday night hosted an unusually light crowd.
The french fry feed typically gathers thousands of people to the park —with tremendous crowds and lines for fries— but Thursday night's feed ended up catering to an underwhelming amount of people who were mostly steered away by weather concerns.
"I was a little disappointed this year The weather wasn't great and I didn't feel like there was a big crowd," UND senior Josie Thomas said. "There's usually huge lines that take forever, but this year I was able to walk right up and get my friends with no wait."
Grand Forks residents were expected to eat their way to a new community record during the feed, but ended up falling short of the goal.
Last year, 5,220 pounds of fries were served beating the old record set in 2014 by 90 pounds.
This year, the feed ended up serving 5,070 pounds of fries — 150 pounds short of the record that was set last year.
Todd Phelps, the Potato Bowl chairman for the past eight years, said there were plenty of potatoes on hand to feed the usual crowd and shatter the record set last year, however, he believes the overcast weather and the rain kept away the necessary crowd to put away the potatoes.
"Because of weather the crowd was a little light," Phelps said. "We normally have thousands of people in the park."
Besides the lower than usual turnout, smiles and laughter could still be seen and heard all around the park as children, adults, and students indulged in baskets of free fries.
"Our overall goal is to spread the word that the potato is a healthy vegetable and can be enjoyed in many forms," Phelps said. "Regardless of the weather, I believe this event continuously helps people from Grand Forks, East Grand Forks and surrounding communities love potatoes and join together to celebrate Potato Bowl week."
Amanda Hefner is a staff writer for The Dakota Student. She can be reached at [email protected]