John Santiago dashing beyond expectations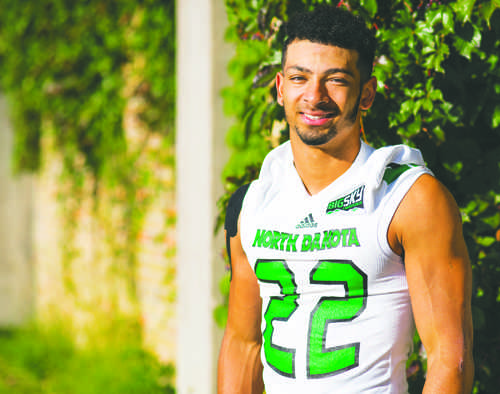 Walking off the field after practice, there may be an extra skip in his step, but John Santiago reassures everyone that he still has a good head on his shoulders.
The sophomore running back returns to his starting position for UND this year after a stellar freshman season. Santiago collected accolades from STATS inc., Associated Press and Big Sky along with breaking two UND football records and shattering numerous personal goals.
STATS inc. and AP named Santiago to the second-team All-American honors, while Big Sky named him to first-team all-Big Sky along with the co-Big Sky freshman of the year.
His debut with UND was a charmed one to say the least, and now heading into his second year as starter for the Fighting Hawks, he is ready to prove that the sky is the limit for him.
"I just want to keep the mentality that I had last year," Santiago said. "Last year I felt like I was focusing on my game more than anything else and just let the distractions fly by me and push even harder."
While the Hawks struggled on the road for the first two games of the season, Santiago took note and understands that changes need to happen if they want to be successful.
"Our first two opponents were pretty tough but that's not an excuse for us, we just have to work out things make those adjustments and work on our craft," Santiago said.  "We basically got a whole new team in the last year so we got a lot of new people but we're confident about who we have up front, and the men we have on the field."
Heading into the Potato Bowl UNDs record was a flat 0-2, and Santiago was still pushing for a better personal performance, crediting the things that worked last year as the stepping-stones he used to shape his sophomore game plan.
"Well just keep the same mentality as last year," Santiago said. "I just got to fix some of the little things that as a first year starter I would do so really polish things up on my game. Come out and keep fighting and work week-to-week."
Opening up their season at the Alerus Center, the fans are a big part of football and for Santiago the fans support does not go unnoticed as he explains that it's hard not to be affected by the environment that he plays in.
"Just having our home support behind us, having the fans on our side," Santiago said. "We just got to keep focus and play hard like we always do."
With the performance and recognition Santiago received from his freshman year, he has now claimed a coveted spot as one of the prominent faces of the football program. Remaining  as humble as can be he made sure to give credit to the team as a whole being the reason that he is where he is today.
"I don't like to consider myself the face of the program because we're all a team," Santiago said. "It's cool to be noticed for my accolades, but I need to keep my mind on straight and not let those things get to my head and focus on the game."
Santiago has set the bar high; his sophomore season will be an uphill battle against his own personal records in hopes of breaking them and setting new ones.
Allyson Bento is the sports editor for The Dakota Student. She can be reached at [email protected]