The US Marines come to campus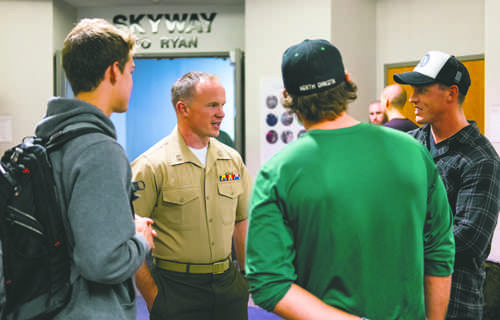 Many are called, few are chosen and fewer still succeed as officers
Students seeking a career in the United States Armed Forces had an opportunity to explore their options Monday, when two Marine officers hosted an information session in Clifford Hall's lecture bowl.
Captain Chris Cory, Selection Officer, and Captain Brian Fredo, attack helicopter pilot and Afghanistan veteran, described the process of becoming an officer in the Marine Corps, which is applicable to most college students; freshmen and sophomores go through Platoon Leader's class, while juniors and seniors go through Officer Candidate School.  This can be taken in either two 6-week periods or a single 10-week period. After completion, graduates would become 2nd Lieutenants in the Marine Corps.
After Cory discussed the basics of the program, Fredo took over to talk about what most attendees were after- Marine Aviation. Captain Fredo flew the Marines' attack helicopter, the AH-1 Supercobra, but other options were strike aircraft (the F-18 and F-35 fighter jets) and heavy lifters (the C-130 transport plane and the CH-53 heavy-lifting helicopter). He wooed the audience with stories of his flight training in Naval Air Station Pensacola, on the panhandle of Florida, and taking weekend trips to Las Vegas on the government's dime. Fredo also told the group of the sightseeing he was able to do while on tour on the warship USS Iwo Jima, while coming back from Afghanistan, showing photos of the Coliseum and the ancient Jordan city of Petra.
It wasn't all fun and games, though. Cory stressed how the Marines were the first to be deployed in most modern conflicts, and Fredo noted one of the men in his squadron was killed in action just days after a group photo he displayed.
This reality hasn't deterred many students, including Shawn O'Neal, a senior from Los Angeles majoring in Commercial Aviation, emphasis on Helicopters.
From the beginning, O'Neal had planned to be in the military.
"I was in both worlds", O'neal said, referring to the U.S. Army ROTC on campus as well as the Marine program, "but I fell in love with the Marines."
O'Neal completed his officer program last summer, part of class OCC-222.
Cory made it clear that prospective students have no obligation to immediately serve after completing their officer program. To complete school on their time, although eventually they must serve a combat tour of four years to eight for aviation officers.  Students who withdraw from the program are not required to serve.
"The hardest part is taking the first step," said O'Neal about the program. "After that it just gets the ball rolling."
In order to be accepted, a candidate must have five letters of recommendation; one from a professor, one from the dean of their college, one from an employer, and two others from anyone other than friends or family members.
The officer program has about a 40 percent attrition rate four out of 10 students drop out, but the recruits accepted by Captain Cory have had only a 10 percent attrition rate. Cpt. Cory has been an Infantry Officer for eight years, and has spent two of those at the Officer Program in Fargo, in charge of recruits from North Dakota, Minnesota, and some parts of Wisconsin. Despite this, he spends most of his time at UND.
"At the end of the day, I just enjoy the faculty and staff," he said. "[And] the students are very professional, respectful, and even if they're not interested in the program, they keep up conversations."
To hopeful marines, Captain Fredo had a word of advice when deployed: don't feed the goats. They will stalk you.
Interested students who missed the information meeting can contact Captain Cory by emailing him at [email protected], or by calling the program office at 701-293-4063.
Connor Johnson is a staff writer for The Dakota Student. He can be reached at [email protected]