UND Soccer fights to snap their four-game losing streak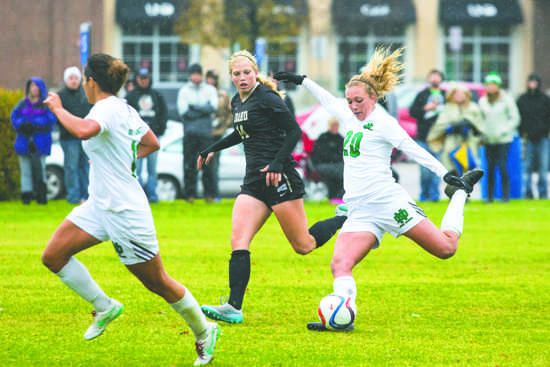 The Fighting Hawks collect a draw against the Leathernecks, but lose hope for a win against the Redbirds
The University of North Dakota headed to Illinois over the weekend with hopes of snapping a four game losing streak.
While the Fighting Hawks were able to snap the streak with a tie, they still remain winless in September.
The weekend began with Western Illinois as the teams fought hard to a double overtime 0-0 draw.
The Leathernecks proved to be a tough competitor as they commanded the field for the first half. Bringing in 13 of their 18 shot attempts in the first, they kept the Fighting Hawks on their toes.
The Hawks picked up the pace as both teams only recorded a total of five shots on goal in the game. The crucial plays for the Hawks came during overtime when they took two of their five corner kicks, but unfortunately nothing that produced any scoring plays.
Netminders from both ends put on an unreal performance for their teams.
UND freshman, Catherine Klein showed her skills as she collected her second shut out of her collegiate career.
Offensively, sophomore Katie Moller collected four of the five shots on goal for UND in her 74 minutes of play.
"I feel we really controlled the majority of play; outside of some chances from corner kicks, I thought our defense really minimized threats," head coach Matt Kellogg said. "We created a lot of dangerous attacking chances throughout regulation and into overtime, but just couldn't connect on them."
The feeling was mutual on the other side of the field as Western Illinois moved their overall record to 1-4-1 on the season.
"We wish that we would have won the match, but you can take shutouts and the defense with you on the road," said Director of Soccer Dr. Eric Johnson. "This can help us prove to other teams that we're tough to score against, and I think that's the biggest part, is that our team is buying into that we need to defend. Today we were rewarded for that with a clean sheet."
UND's luck ran out Sunday, as they couldn't manage to adjust their performance to contend against Illinois State.
The Redbirds jumped ahead early on in the first half as freshman forward Mikayla Unger scored her second on the season a little over 15 minutes into the game. Illinois recorded 12 shots against UND's Catherine Klein.
The Hawks on the other hand played a sluggish game; with three shot attempts and the only shot on goal was recorded by senior Zoe Foster.
The Redbirds solidfied their win with a penalty kick in the final minutes of play for a 2-0 final.
The Hawks continue to look for a win as they head to Ogden, Utah to face Weber State, Septmber 25, kick off is set for 1 p.m.
Allyson Bento is the sports editor for The Dakota Student. She can be reached at [email protected]