Time Out week end with wacipi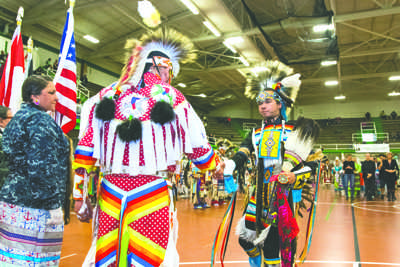 RJ Morin, wacipi participant, receives recognition for his efforts to Time Out week proceedings. photo by Nick Nelson/The Dakota Student. 
The 46th annual Time Out Wacipi was hosted by the UND Indian Association this past weekend.
The yearly event brings Native Americans from all over the U.S. and Canada to compete in traditional dances. There are several categories for different age groups and types of dances.
In the more traditional categories, dancers wear regalia with natural colors, feathers and beadwork. In the fancy dance, neon colors and flowing streamers can be seen. Women also compete in a jingle dress dance, in which the dress is covered with hundreds of metal cones that jingle as the wearer dances to a drumbeat.
Forming a circle around the dancing area are drum groups that take turns performing music for each dance. Drummers surround large drums, beating them in time and singing. 
A wacipi  — also known as a powwow — is a celebration of life, according to Gavin Nadeau, a member of the Turtle Mountain Band of Chippewa Indians.
Nadeau admitted he wasn't as involved with Native American traditions until he met his girlfriend when they were high school seniors. 
Now, Nadeau is the president of UNDIA and the vice president for the Indian Studies Association. He said events such as the wacipi can be a great source of inspiration.
"They are extremely important," Nadeau said. "They teach you the right values, they teach you the right morals and they give you a really good, positive outlook on life."
Nadeau, who studies history and Indian studies, said the three-day event was "hectic, exciting and, above all, rewarding." 
Much of his time was spent working with the other board members and volunteers to make sure everyone was in the right place at the right time.
Though the event only takes place for a few days every year, there is a lot of planning involved.
"We start planning the second or third week of the school year," Nadeau said. "It's that big."
The wacipi isn't just for Native Americans, Nadeau said. It also is a great opportunity for anyone to experience a different culture through music, dance and food.   
"Everyone is welcome," Nadeau said. "I think people feel they aren't welcome. Anyone can come from campus or the Grand Forks community."
For Preston Maher, a sophomore from South Bend, Ind., this was his first wacipi. He got involved as a volunteer through the Poolman Leadership Academy, a UND program that helps students gain leadership skills.
Maher worked security for the event Friday and at the admissions table Saturday morning. 
On Saturday night, he returned as a spectator.
"When I was volunteering, there wasn't a lot going on right away, so I wasn't able to see a lot of dancing or hear a lot of the music," Maher said. "But then tonight, when I was just sitting there, I got a lot more in-depth experience — like how meaningful the event is and everything."
Maher said he enjoyed speaking with vendors at the wacipi and was impressed by the amount of effort they put into their crafts, including intricate beadwork. Thirteen vendors were set up around the perimeter of the wacipi, selling everything from detailed moccasins to dreamcatchers and jewelry.
While volunteering, Maher also got to see just how much practice the dancers and musicians put into their performances.
"Going to events such as the wacipi are an important part of the college experience," Maher said.
This event, like many others on campus, was free for UND students. 
Maher said his time in the leadership program has encouraged him to get out and experience new things. He hopes other students will do the same.
"If you don't go out and try different things, go out and get involved in something, then you don't have the whole, 100 percent college experience," Maher said.
The wacipi capped off Time Out Week at UND, a celebration of American Indian culture and heritage. Free workshops and activities were held throughout the week, and there also were speakers and entertainment related to Native American culture. 
The UNDIA was created in 1966 as a response to racism on campus. UNDIA defines its wacipi as "a time when people of all ages can gather together, to sing, dance, renew old friendships, make new friends, and share the beauty of life."
Lucas Amundson is the features editor and Haley Olson is a writer for The Dakota Student. Amundson can be reached at [email protected] and Olson can be reached at [email protected]