UND defensemen answer the call to the NHL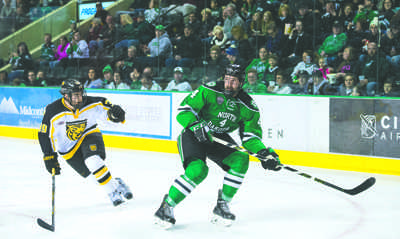 Keaton Thompson was a key reasons the UND hockey team was able to win the national championship this season. Photo by Nick Nelson/The Dakota Student. 
While there will be an addition to the banners hanging in Ralph Engelstad Arena next year, there will be a subtraction of key defensemen as well.
Juniors Troy Stecher and Keaton Thompson will both be suiting up for NHL teams next season instead of playing for the Fighting Hawks. Stecher signed a free-agent contract with the Vancouver Canucks and Keaton Thompson has signed with the team who drafted him, the Anaheim Ducks.
Both players were key cogs in Brad Berry's defensive rotation last season.
Each played 43 games for the Fighting Hawks and made offensive contributions as well as       playing solid defense. Stecher tallied eight goals and 29 points on the season while Thompson contributed two goals and 15 assists.
The decision to leave a place they've called home for the past three years and worked so hard for is not an easy one. It comes down to them doing what is best for them personally.
"It's tough to leave this place," Stecher said. "I got to add three banners, one national championship and two Penroses. That's something really special. At the end of the day, hockey is a business now."
For Stecher, he gets to live out a dream he's had since he was young. The British Columbia native will return to play for his hometown team, the Vancouver Canucks.
Thompson, a third-round draft pick by the Anaheim Ducks in 2013, will start a new life on the other side of the country. The Devils Lake native has played a majority of his games in his home state split between Devils Lake, Fargo and Grand Forks.
For Stecher, it is a very emotional and tough time in his life.
"I'm very thankful for this place and everything they've done for me," Stecher said. "I get emotional talking about it."
As an assistant captain for the team, Stecher leaves behind big shoes to fill. Although Thompson was not a captain, the junior played in all 43 games this season and was an extremely reliable defenseman for the team.
Players leaving early is a gift and a curse for the Fighting Hawks and it's something that they have come to know all too well. The upside is that it means pro-level players are coming to the school and NHL scouts are taking notice. The downside is obvious in that UND loses key players to the NHL.
Just last year, the Hawks lost Mike Richter Award winner Zane McIntyre. Many were worried about replacing him. Last season, current UND goalie Cam Johnson helped get his school an eighth national title and was also a finalist for the Mike Richter Award.
The UND program is the epitome of the next-man-up mentality. When someone leaves, they always have someone to step up and fill their role.
In the next few weeks, UND will know who is staying and who is leaving. The one thing that is certain is that the Fighting Hawks will remain one of the most talented squads in college hockey as the next crop of recruits looks to fill in the gaps.
Adam Gunderman is a sports writer for The Dakota Student. He can be reached at [email protected]