Budget cuts affect more than the bottom line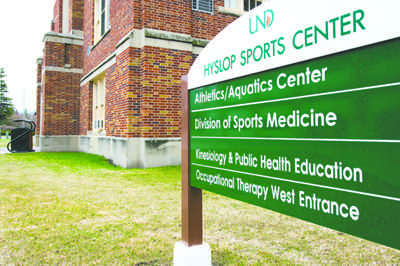 Before the HPC was built, the baseball team had to practice in the Hyslop Sports Center, as conditions were not condusive for baseball in the early spring. Photo by Nick Nelson/The Dakota Student. 
When UND made the decision to cut its baseball and men's golf programs due to budgetary reasons last week, it was met by anger and confusion by both teams.
Both programs have deep ties with the university and have been around for a long time. The first baseball game played by UND was in 1889 and the golf team first hit the links in 1929.
The news came as a shock to the student athletes who were excused from class to attend the meeting at 3 p.m. on Tuesday.
"I was shocked and in disbelief," senior pitcher Brett DeGagne' said. "We were devastated. Also, angry because of what we had accomplished with what we had to work with through the years."
Anger was a common theme with the players who just had their whole lives thrown up in the air because of the cuts.
For seniors, they had to watch as the programs which they had dedicated four years to get disbanded. For freshmen, it presented a difficult challenge of leaving a school they had expected to call home for the next four years.
"It is heartbreaking to say the least," freshman golfer Jeremy Kirk said.  "Being recruited to represent the school, and then having your sport, something you've dedicated a great portion of your life to, taken away is not an easy thing to bare."
For the freshmen on the baseball team, it was just as hard to swallow.
"I was planning on spending my four years here," freshman catcher Miles Lewis said. "Just something like this changes so many people's lives so drastically. Everything is up in the air, I don't know what I'm going to be doing for school next year."
Something players on both teams echoed was that they did not think enough was done. Players of both teams were angered by the way it was handled.
For the baseball team, they knew there were funding issues for a couple years. They and others even had sent emails to athletic director Brian Faison about fundraising. Those emails all went unanswered.
"People who put in time and work got kicked in the teeth," DeGagne' said. "There are a lot of supporters of the program and they've all been let down."
Lewis agreed with what DeGagne said.
"Things that were sent to Brian Faison with fundraising efforts never got a response back," Lewis said. "Now he tells us they're going to cut the program due to budget cuts? It just kind of makes us wonder the effort he put forth with that. It's just really disappointing."
There is a lot of distrust between the players and the athletic department. They do not believe everything that they've been told and still are looking for answers.
The decision was made before the announcement and the news affected players in different ways.
"Most schools have their rosters filled before signing opens," Kirk said. "So by waiting to tell us, Mr. Faison essentially destroyed a lot of players' opportunities to find another school to transfer to. I was up throughout the night on April 12, trying to contact coaches at other schools."
For the baseball team, the news came just a day before their biggest game of the season. The team traveled to in-state rival NDSU to take on the Bison, which is always a game players have circled on their calendars.
It also came right before the start a long stretch of nine important conference games in a row, a critical time for a team trying their best to win their conference.
"Right now, this is all we are thinking about," DeGagne' said. "We did not have time to let this process at all."
The baseball team lost to the Bison last Wednesday, 15-4.
The players on both teams said they would do their best to finish out their seasons strong despite the uncertainty of their futures. Players on the baseball team have been receiving calls and texts from other schools since the news dropped on Tuesday.
"It's just disappointing he (Faison) didn't really have any sympathy for us at the meeting," Lewis said. "He said what he needed to say and left us with that, totally open ended. I think he could've been a little more sympathetic and I think he and the athletic program could've done more to save the program. They took the easy way out. It's disappointing."
It's a difficult time for the university as two long-time programs have been cut from the school. For the athletes, it's one of the most heart breaking things that can happen to them.
Adam Gunderman is a sports writer for The Dakota Student. He can be reached at [email protected]