Zach Muckenhirn is UND's secret weapon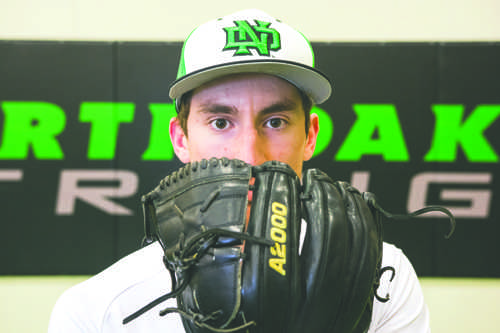 UND pitcher Zach Muckenhirn running off the mound during his freshman season in 2015. He has yet to give up an earned run this season. Photo by Nick Nelson/The Dakota Student. 
In the early season, the UND pitcher has yet to give up a run and teams are taking notice. 
UND junior Zach Muckenhirn started off the season with a bang. He gave up only three hits in his complete game shutout of No. 12 ranked USC.
Beating a top ranked team is never easy, especially when UND was far from being one of the top 25 teams in the country. They have the facilities and resources to be a perennial powerhouse.
"I was pretty confident going in because of the preparation we'd had in the weeks before," Muckenhirn said. "I just knew once we got on the field, it was our first time this year, the guys would be ready to play."
Although playing the big name schools poses a big obstacle it is something Muckenhirn and the Hawks look forward to.
"It's a lot of fun. When you get to this level, the goal is to play teams like that," Muckenhirn said. "Any time you get a chance to play programs that big, it's really exciting. If we are to get to a regional, those are the teams we have to beat."
In his next start, he continued to pitch quality innings, giving up no earned runs in eight innings of work against Alabama in Tuscaloosa, Ala.
Muckenhirn's stat line for the season so far is an impressive 17 inning pitched, zero earned runs, 21 strikeouts and only two walks.
After the game against USC, he was named National College Baseball Writers Association Division I Pitcher of the Week.
Last season, in eight of Muckenhirn's fourteen starts, he gave up three runs or fewer. Of those eight, six were quality starts, or when the pitchers gives up three or less runs and goes at least five innings.
After stringing together two shutout starts in late April and early May last season, you could see the potential of the left hander.
Like many baseball players, Muckenhirn has been playing the game most of his life. Since baseball is a game of repeated failure and small details, most players start young.
"I started playing baseball when I was ten after playing tee ball," Muckenhirn said. "I started as an outfielder but also mixed in some pitching."
Because it is too cold and there is usually snow in Grand Forks, the Fighting Hawks always begin their season on the road. This can take a toll on the team.
The weather also affects how the team practices. They have to practice inside, which creates a plethora of issues, such as low hanging roofs, not enough room for players to work on fielding and the dreaded infield drills on surfaces that make the ball do erratic things.
This isn't something the team is concerned with though.
"It doesn't give us the opportunity to practice on a field, there are certain things that are limited," Muckenhirn said. "I kind of like it. We own it. This is who we are. We are the guys who have to practice inside.We aren't the guys who get nice weather all year round. It kind of puts a chip on your shoulder."
The team has gotten off to a rough start after its two upset wins against powerhouse USC. In the final game of the series against the Trojans, they came back from a 5-1 hole to make it 6-5, but fell after USC scored a run in the 7th and 9th inning each.
Since the USC series, UND has yet to win another game. Despite Muckenhirn's strong start against the Crimson Tide, the Fighting Hawks fell to Alabama three games in a row.
The team still has high expectations and is not overly concerned by the recent losses.
"I see this team competing for a WAC championship," Muckenhirn said. "Based on what I've seen so far, I think we'll have a real shot at it."
The baseball team's next game is at 3:00 p.m. March 11, in Lawrence, Kan., as the team takes on the Kansas Jayhawks. The first home game is April 8 against Seattle University.
Adam Gunderman is a sports writer for The Dakota Student. He can be reached at [email protected]