Adversity doesn't slow Schmaltz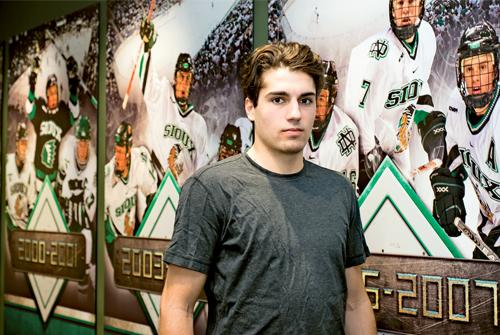 UND forward Nick Schmaltz poses for a photo in the halls of the Ralph Engelstad Arena as he and his team prepare for NCHC rival Western Michigan. Photo by Nick Nelson/The Dakota Student
UND forward Nick Schmaltz has built off of his strong freshman season to put together an even better sophomore year.
Entering the final weekend of the regular season, Schmaltz has 30 points to put him behind Drake Cagguila and Brock Boeser in scoring for the Fighting Hawks. The combination of these three forwards make up one of the most dynamic and explosive lines in college hockey.
Since the beginning of the season, people have been comparing Cagguila, Boeser and Schmaltz to the Ryan Duncan, T.J. Oshie and Jonathan Toews which was arguably the best in UND history.
"They're three of the best players to come through the program, it's a big honor," Schmaltz said. "To be in that category with them is pretty special."
Although the first round pick of the Chicago Blackhawks is excited to be nominated for the Hobey Baker Award, the team's goals come first.
"It's a pretty special group of players," Schmaltz said. "To be honored like that is pretty cool, but I obviously want team success more than individual success."
As a team, UND has had another great season. The Fighting Hawks enter the final matchup of the regular season with a 26-5-3 record. Their five losses is the least amount for a UND hockey team in recent history.
While the sophomore has seen an abundance of success this season, he has also dealt with adversity. The Verona, Wisc., native suffered an injury and had to get through the recovery process to get back on the ice.
"Getting your conditioning back is tough," Schmaltz said. "You can do bikes and stuff like that, but nothing compares to a full game on the ice."
With the new season comes changes, a fact Schmaltz and his teammates know very well. The largest of these changes was former UND coach Dave Hakstol leaving the school to coach the Philadelphia Flyers, something a college coach hasn't done in 28 years.
There are some similarities, as well as differences between Hakstol and new head coach Brad Berry.
"Hakstol is a little more harsh and straightforward," Schmaltz said. "Berry is a little more relaxed, but they're both great coaches and are effective at what they do."
Along with a new head coach, another difference is the absence of his big brother, Jordan Schmaltz. The older Schmaltz decided to forgo his senior season to join the St. Louis Blues organization, which drafted him in 2012 and recently recalled him from the Blues' minor league team, the Chicago Wolves.
"It's a little different," Schmaltz said. "That was a pretty special experience being able to play with him. Growing up, we always wanted to play together and never got to do that until last year. It's a year I'll never forget and was one of the best hockey moments I've had."
Even though his brother may no longer be on the team, it's still a special team to Schmaltz.
"We have a really special group, everyone gets along with each other," Schmaltz said. "I've made a lot of life-long friends that 10 years down the road, we'll all still be really close."
One of the more noteworthy changes this year is the team did not start slow like they had the last several seasons. They have played at a high level all season.
"A lot of guys have stepped up for us this year," Schmaltz said. "The freshmen have come in and made a big impact playing huge roles for us this year."
This weekend, with one win over Western Michigan, UND can clinch sole possession of the Penrose Cup.
Since 2010, the Fighting Hawks hold a 6-1 record against Western Michigan including a NCAA tournament win in 2012. While it seems like an easy feat to accomplish, the team isn't looking past them.
"They're a hungry team," Schmaltz said. "We will prepare for them like we normally do."
The Fighting Hawks will take on the Western Michigan Mustangs at 8:08 p.m. tonight and at 7:07 p.m. on Saturday at the Ralph Engelstad Arena.
Adam Gunderman is a sports writer for The Dakota Student. He can be reached at [email protected]