An honorable candidate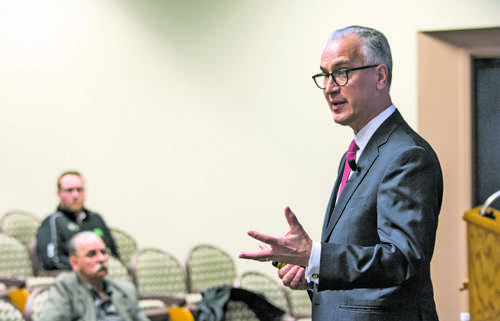 Mark Kennedy visited campus last week as a part of UND presidential search process. Photo by Nick Nelson/The Dakota Student. 
UND Presidential candidate Mark Kennedy visited campus on Thursday and gave his pitch as to why he is qualified for the position.
"It's easy to say 'I will.' It's much harder to have the experience to say 'I have'. '" Kennedy said.
This was the theme under which Mark Kennedy presented his open forum at the Memorial Union on Friday.
Kennedy, a Minnesota native, is running under the platform that his past accomplishments and qualifications make him the ideal candidate for UND.
"Having been a fourth generation Minnesotan and a third generation North Dakotan, I feel that I can be the leading voice of the University of North Dakota, representing all students."
Kennedy said, in regards to his deep roots in the upper Great Plains region.
Kennedy pointed out that many Minnesotans have attended the University of North Dakota, and believes that a Minnesotan would bring desirable qualities to the presidential office here at UND.
After receiving a bachelor's degree at St. John's University, Kennedy went on to attain an MBA with distinction from the University of Michigan's Ross School of Business.
"I understand the value of liberal arts, as a base." Ken said "I wouldn't have gone from finance, to general manager, to politics, to academia had I not had the strong liberal arts base, and we need to make sure we're preserving that. When you combine liberal arts with an experiential learning, you really turbo charge the prospects for your students, and that's something that I think UND needs to do."
David Satre is the news editor for The Dakota Student. He can be reached at [email protected]