UND's budget proposals take shape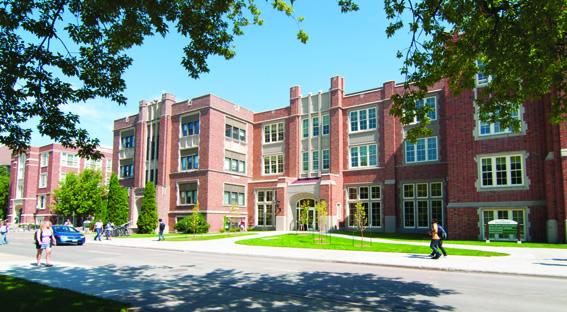 Photo courtesy of und.edu
UND has now made its proposed budget cuts available online. These proposed cuts could impact every department, some more than others.
On Feb. 9, Interim President  Ed Schafer asked all university divisions to prepare 95 percent and 90 percent budgets across all sources of funding to assist with UND's budget planning process.
Each department has been working with Provost Thomas DeLorenzo to come up with the budget that is currently under contention.
Many departments will experience these cuts through unfilled retirement positions or cutbacks on the amount of employees on payroll in large departments or programs.
The five departments noted in the news release online were: the president's office, finance and operations, health affairs, student affairs and university and public affairs.
President's office
In the president's office portion of the proposal, it mentioned the elimination of a position upon retirement of the current employee, a cut to funding for temporary staff and net salary reductions for athletics including the cut of baseball and men's golf.
Also mentioned were cutbacks on operating functions, including professional development and administrative travel, eliminating one-time costs associated with the opening of the UND Athletics High Performance Center and streamlining special event costs.
Finance and Operations
The next and most in-depth portion of the proposal was finance and operations. This multifaceted segment included cutbacks and consolidation of services offered by the university.
A plan was outlined for Student Account Services, UCard Office, and One Stop Student Services to consolidate under one director with customer service staff in a single location with a separate back office for processing.
It also covered a cut to Ray Richards Golf Course. This will result in either the transferal of operations to a non-UND entity, while UND retains ownership of the land, or a total closure of the golf course. Along with Ray Richards was a mention of a working group hired to audit the necessity of the Chester Fritz Auditorium.
This segment also noted a cutback of staff, removal of subsidies and a cutback on base level services associated with facilities, custodians were used as an example. 
Health affairs
Health affairs was the third portion covered. This area of the proposal included delaying a portion of the Healthcare Workforce Initiative, which would have funded a new family medicine residency based out of Sanford Health in Fargo and a geriatrics residency program to be sponsored jointly by Sanford and the UND SMHS.
Also mentioned were adjustments to program priorities, including plans to leave vacant personnel slots rendered empty by retirement or separation and a cutback on one percent from operating costs.
Student affairs
Student affairs was the fourth area covered in the proposal. A 10 percent reduction of appropriated funds within this area was submitted to the president.
Housing and dining would cut its budget by approximately $1 million, or roughly 5 percent of its budget.
One associate vice president and three director positions could be eliminated and reorganization would occur in these areas.
University and public affairs
Last to be covered in the proposal was university and public affairs. In this area, there were two budget reduction scenarios to ceremonies and university events, one which would retain an unfilled position, and one that would eliminate the position.
An anticipated retirement in the President's may lead to the possible combining of said positions.
Also included was a recommendation to choose one budget option among a reduction to the Television Center's overall budget by 21percent, an elimination of two positions and a cutback of another position to 80 percent.
It was mentioned that said cutbacks could lead to the suspension of the Studio One program and the related function that has provided internship opportunities for students.
Final decisions regarding the budget process are expected to be announced by April 26.
The full content of the budget proposal may be found at http://und.edu/president/budget/.
David Satre is the news editor for The Dakota Student. He can be reached at [email protected]