UND men's basketball solidifying spot in Big Sky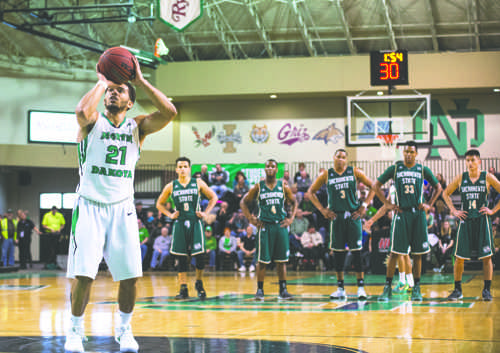 UND captain Quiton Hooker shoots a free-throw against Sacramento State. Photo by Nick Nelson/The Dakota Student. 
Captain Quinton Hooker has historic week by scoring 72 points in two games while leading UND to a three game win streak.
For those in Grand Forks who are unaware, UND captain Quinton Hooker is a bad man on the basketball court.
Led by Hooker, the UND men's basketball team collected two crucial wins against Big Sky Conference opponents.
With victories over Portland State and Sacramento State this past week, the Fighting Hawks sit at No. 4 in the Big Sky Conference standings and are currently on a three game win streak.
UND is playing its best basketball of the year at an important time of the year, all behind Hooker's impressive play.
Thursday night was a historic night for the junior from Brooklyn Park, Minn. Not only did Hooker become a member of UND's 1,000 point club, but also set the Division I record for points in a game by scoring 38 against Portland State.
"Quinton was outstanding again tonight," UND coach Brian Jones said. "He is playing at such a high level right now and I keep pushing him to bring his teammates along with him. I think you saw that tonight."
The Fighting Hawks would need every one of Hooker's points though, as Portland State was ready for UND's best shot.
Outside of Hooker's career night, the Hawks' offense was stifled by bad mistakes and the Vikings defense. UND turned the ball over an alarming 17 times and missed enough open shots and offensive opportunities to keep PSU in the game.
"A lot of the game really, we had a lot of missed layups," Hooker said. "I would say, in the first half, our biggest miscue was, as coach would call it,       catastrophic turnovers."
Luckily, the turnovers were not too catastrophic for UND to overcome. Hooker, along with freshman guard Geno Crandall, hit some key shots and free-throws, and UND played clutch defense to win 80-77.
"I thought where our guys took a positive step was in the final three minutes," Brian Jones said. "We were up by two and came up with some key stops and had quality offensive possessions to get us this win."
It can be argued that UND played down to a Portland State team that is not as good as the Hawks.
That was not the case on  Saturday afternoon.
Before the game, there was a question of how Hooker would follow up his record-breaking performance.
The answer was byy dropping another 34 of course.
The Hawks started off slow against Sacramento State and allowed them to tie the game. That was until Hooker rallied off 10 straight points to regain the lead. From there, the Hawks would dominate the Hornets in every aspect of the game.
The Hawks were on fire shooting the ball, hitting 58.1 percent of their shots while only allowing Sacramento State to shoot 31 percent.
At a score of 50-31, the game was basically over at halftime.
UND would continue to swat the Hornets by shooting even better in the second half. The Hawks' were clicking on offense by moving the ball effortlessly and scoring at will, shooting 69.2 percent in the half.
Because it was the last home game of the season and the score was so lopsided in UND's favor, the seniors got to play some extended minutes. Dustin Hobaugh got the start and contributed 10 points in one of his best games of the season.
Also, after chants from the student section of "We want Shane," Jones put fifth year senior Shane Benton. While Benton did not score, he tallied one assist and got to finish his career at UND the right way.
After one of its best performances of the year, UND finished the game winning 97-71.
"We were dialed in from the start and had a little lapse there before Quinton took over," Jones said. "Once we got the momentum back, I thought we played at a high, high level and were able to send our seniors out with a nice home win."
Now that UND has taken care of its home court, the Hawks move on to one of their most important road series of the year.
On Thursday, UND takes on the second best team in the Big Sky, the Montana Grizzlies, at 8 p.m. in Missoula, Mont. On Saturday, the Hawks travel 200 miles down the road to play Montana State at 3:05 p.m. in Bozeman, Mont., to finish off the regular season.
Alex Stadnik is the sports editor for The Dakota Student. He can be reached at [email protected]