Hawks' basketball in midst of youthful transition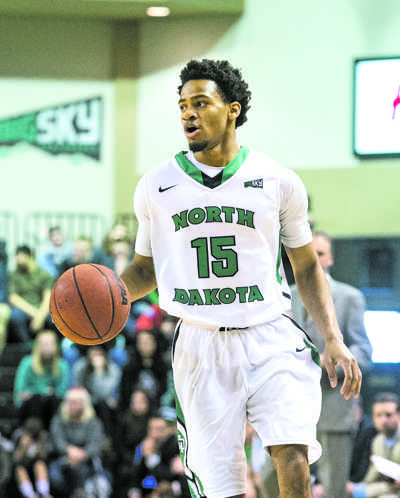 Cortez Seales is one of four freshman playing big minutes for UND this year. Photo by Nick Nelson/ The Dakota Student
Freshmen players Adam McDermott, Geno Crandall, Connor Avants and Cortez Seales balance basketball with school.
This season, the freshmen on the Fighting Hawks basketball team have made a big impact. They have dealt with not only transitioning their game, but acclimating from high school to college level academics.
Guard Geno Crandall redshirted last season. This season, he has seen his role go from being a redshirt to being one of the leaders in the backcourt and starting as one of the guards for the Hawks.
"As a redshirt, I learned what it takes to be successful at this level," Crandall said.
Crandall is second only to Quinton Hooker in points on the team with 10.3 ppg. Crandall's quick step, ball handling skills and vision have given other teams fits trying to contain him.
Another freshman joining Crandall on the leaderboards is Adam McDermott. The freshman from Cedar Rapids, Iowa, has been excellent for the team and has become a premier outside shooter that other teams have to game plan for.
McDermott has quickly become one of UND's go-tos when they need a timely three point shot.
"I'm definitely a shooter," McDermott said. "I think I'm in there to knock down shots and be a team player."
While McDermott has emerged as a reliable outside threat for the offense, other freshmen are making noise on different parts of the court.
Conner Avants has emerged as a force inside for the Fighting Hawks. The 6' 7" Edmond, Okla., native has become a key cog in UND's post rotation.
Like the other freshmen, Avants noticed a few big changes when transitioning from the high school basketball level to the college level.
"You have to hit another speed," Avants said. "In college, it's about sprinting everywhere and doing everything as fast as you can, and you can't get away with some of the things you could in high school."
While there had to be a transition basketball-wise, there is also a big difference between high school and college academically.
"It's harder classes," UND freshman Cortez Seales said. "But I like having 50-minute classes too."
Seales is currently the fifth leading scorer on the team, and fourth for assists. The Eldridge, Iowa, native also has a knack for blocking shots. He is only behind Drick Bernstine and Carson Shanks in that category with 10 rejections on the season.
Like his other freshman teammates, Seales enjoys being on the team because of his teammates.
"We all get along," Seales said. "We have a lot of funny characters on the team."
The transition from high school to college is something all freshmen have had to deal with. Adjusting to a new school, new team and, in some cases, a new state is tough.
"Definitely have to go to study table," McDermott said. "You have to get your work done and stay eligible."
With the team having as many contributors at such a young age as they do, its future looks very bright. When asked about where they see the program by the time they are all seniors, their answers were the same: Be a dominant program that goes to the NCAA tournament frequently.
Just because they see success on the horizon doesn't mean they don't think they can have success this season as well.
"Our goal for the season is to win the conference championship and hopefully go the the NCAA tournament," Crandall said. "That's a goal we set before the season started."
Crandall, Avants, Seales, McDermott and the rest of the Fighting Hawk basketball team are right in the most important part of the season. The team is in position to get in the upper half of the Big Sky tournament bracket with three games to play. UND takes on Sacramento State for its last home game of the season at 2 p.m. this Saturday at the Betty Engelstad Arena.
Adam Gunderman is a sports writer for The Dakota Student. He can be reached at [email protected]