Annual Feast of Nations hosted in Grand Forks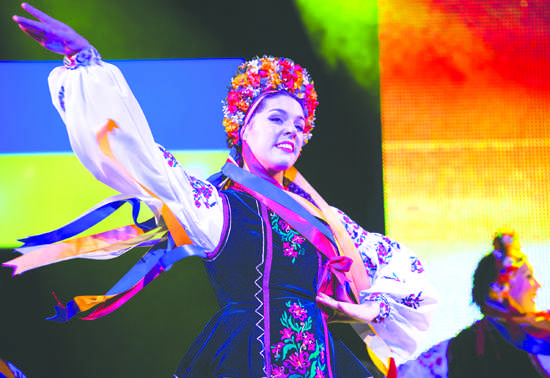 A member of the Rusalka Ukrainian Dance Ensemble performs at the 54th annual Feast of Nations held this past Saturday at the Alerus Center. Photo by Nick Nelson/The Dakota Student
The 54th annual Feast of Nations event happened seamlessly at the Alerus Center this past Saturday night.
The event brought together people from all over the world as they enjoyed food, dance and music from across the globe.
UND students Eric Souvanasacd and Erika Gallaway served as master of ceremonies for the event, introducing the various acts and performances throughout the evening.
Prior to the dinner and entertainment, Interim President Ed Schafer and Mayor Mike Brown both gave remarks on the events importance in celebrating the different cultures that make up the Grand Forks community.
The event featured a mix of performances by professional groups and student organizations. Organizers of the event have student groups audition for the chance to perform.
This year, 24 different groups auditioned for roles and 12 of them were selected.
The various musical and dance acts were arranged throughout the night to flow with the rest of the evening; slower performances came on when food was served, while the more fast-paced acts performed in between courses.
The Rusalka Ukrainian Dance Ensemble kicked off the main event with a traditional Hopak Ukrainian dance. The name of the dance comes from the word "hopaty," which means to leap and stamp feet.
The next three acts all featured local performers, with the performances by the North Dakota Ballet Company, UND Student Association of India and UND Angolan Heart.
Japanese UND students conducted a mock samurai fight turned dance routine for the crowd, while UND students with African heritage combined various cultural dance styles with hip-hop moves.
UND professor Timothy Pasch concluded the event with a solo piano performance.
The five course meal featured food from a wide range of countries, including stuffed grape leaves from Turkey, chicken paprikash from Hungary and pavlova, which is a type of dessert, from Australia.
The Feast of Nations is hosted each year by the UND International Organization, and it is by far their largest event of the year. This year's celebration had a budget of close to $60,000, and attendance was expected to be just over 1,000 people. It's nearly a year long process for the International Organization to plan all the different pieces of the event.
Sean Cleary is the Editor-in-Cheif for The Dakota Student. He can be reached at [email protected]