Going the distance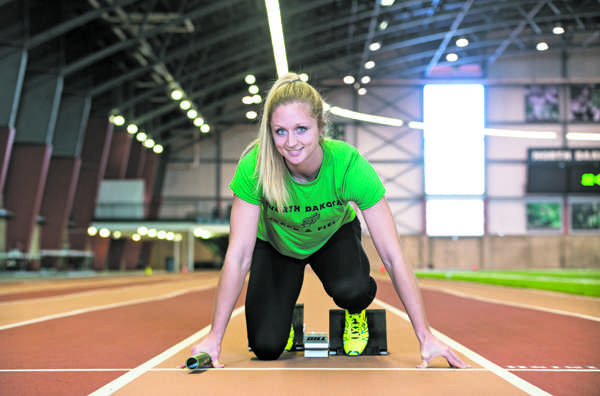 Paige Slemmons is a sprinter and captain for UND's track team. Photo by Nick Nelson/The Dakota Student
UND's track and field team becoming relavent in the Big Sky Conference through a trio of senior leaders.
The UND women's track and field team has come a long way since its enterence into Division I and this season it is looking to improve even more.
"This year's team is fierce," senior Erin Wysocki said. "I think we have an edge to us this year, everyone is excited and always ready to compete."
When these seniors were freshmen, UND was just starting out as a Division I team. Nobody really paid much attention to them. Now, the Fighting Hawks have become one of the better squads in the conference.
"My freshman year was our first season in the conference and we were like 'we're D1 now, lets see what happens,'" captain Alyssa Lueck said. "Now, everyone is doing well and it's exciting."
The Fighting Hawks currently hold first place in five different events so far this season.
The UND track and field teams are greatly impacted by the new High Performance Center. The girls went from running outside in the winter, risking injury because of ice and snow, to practicing in a state-of-the-art training facility.
"It's helped the sprinters a lot, we can go full speed and not worry about slipping," captain Paige Slemmons said.
When they were not practicing outside, they trained in the Hyslop Sports Center. While there wasn't ice, snow and cold like outside, it was still not the most favorable place to practice either. It couldn't even fit everyone inside at the same time. That meant that they could not practice all together.
"We threw into a wall at the Hyslop," Lueck said. "So to have this new facility and be able to see how far the ball goes, it's a huge difference."
This season, both captains have broken school records in their events.
Slemmons was joined with Tianna McKinney, Ashley Rone and Heather Harrower in their record-breaking 4×400 meter relay. They broke the school record with a time of 3 minutes and 45.91 seconds. It also was the best 4×400 ran all year in the Big Sky Conference by six seconds.
Lueck broke her own school record with a shotput throw of 49 feet, 3.75 inches last weekend. She leads the Big Sky Conference in the shotput.
The senior trio excels in the classroom as well. Time management is crucial, but they all credit being on the team as well for their academic success.
"Without running, I would probably not be as driven," Wysocki said. "When I'm having a rough time in school, the best thing for me is to go running."
Lueck echoed Wysocki's opinion. Track is an important factor to keeping her good grades.
"Track is a big motivator for me to do well in school," Lueck said. "If you don't do well, you can't participate in athletics."
While running as a sport may seem easy to some people, there really is much more to it than meets the eye.
"There is a lot of technique, it's not just running," Slemmons said. "It's the art of putting maximum force down, while staying relaxed."
It may be the three girls' last season with the team but they all want to go out with a bang. All three echoed one goal: make it to the conference finals. As it stands today, that goal is not out of reach.
Adam Guunderman is a sports writer for The Dakota Student. He can be reached at [email protected]