Hawks flying high on the road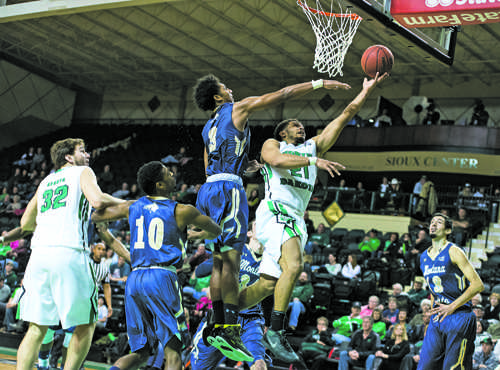 UND captain Quinton Hooker cutting through the lane to score on a layup against Montana State this season. Photo by Nick Nelson/The Dakota Student
The Fighting Hawks look to finish their three-game road trip Saturday night as they take on the University of Northern Colorado Grizzlies.
UND is currently riding a hot streak, winning four of its last five games. They have won their last two, both on the road and could sweep their road trip with a win Saturday night.
"I like the direction we're going," UND coach Brian Jones said.  "I'm really confident in our crew."
The Fighting Hawks got to triple digits this year for their first time in the first game of the trip against Northern Arizona University en route to a dominating 101-59 performance.
The UNC Grizzlies come into the matchup with a 7-13 record. They have been a streaky team this season. While they are currently on a three-game winning streak but before that, the Grizzlies had lost four games in a row.
After winning their last two, the Fighting Hawks have an overall record of 10-9. Part of the reason they have been as successful as they have lately is due to the fast starts.
The Fighting Hawks are currently 5-3 in the Big Sky Conference which is good enough for third place behind Weber State and Montana. The Grizzlies on the other hand have a 4-4 record in the Big Sky and are looking to pull into a tie for third place with UND, which makes Saturday's bout that much more important.
In the past, the Grizzlies have given the Fighting Hawks trouble. Since joining the Big Sky Conference, UND has gone 2-4 against UNC and have dropped their last two games against them.
Quinton Hooker continued his solid season last time out, tallying 28 points. It marked the 24th straight game he has scored double digit points. He and Geno Crandall create problems for other teams offensively. Both are offensive forces that make defenses have to prepare for them.
"We're really clicking right now," Hooker said. "It's our chemistry and defense."
UND will need both Hooker and Crandall to keep up its pace. When both of them are going, the Fighting Hawks are a very difficult team to deal with. If their defense plays to it's potential as well, they will be a force in the Big Sky Conference.
Offensively, the Fighting Hawks and Grizzlies average about the same amount of points scored per game. UND is number two in the conference with 77.9 points per game, and UNC is third with 77.8 points per game.
With a week's time in between its last game against Southern Utah and Saturday's game with the Grizzlies, UND has had ample time to rest up and prepare for its conference rivals.
Tip-off for the game is 8 p.m. central time in Greeley, Colo.
Adam Gunerman is a sports writer for The Dakota Student. He can be reached at [email protected]