Brewster's Millions: Building a legacy at UND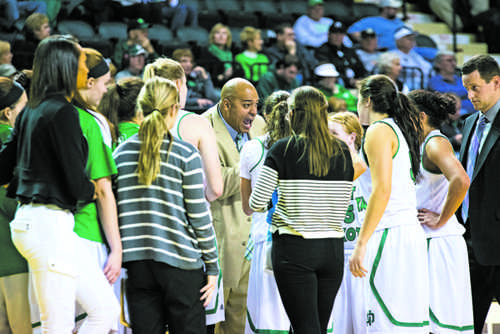 UND coach Travis Brewster rallies his team in a game. Photo by Nick Nelson/The Dakota Student
The UND women's basketball coach Travis Brewster may only be in his fourth year as head coach, but he has already made a positive impact on the program.
Since becoming the coach in 2012, Brewster has amassed quite a resume.
He led the UND squad to a 2013-14 Big Sky Conference tournament championship and a 2014 NCAA Tournament appearance as well as being awarded the 2014 Big Sky Conference Coach of the Year.
The Cedar Rapids, Iowa, native enters his 13th year as a coach in the UND program. Before becoming head coach, he spent nine years as an assistant to long-time head coach Gene Roebuck.
"The biggest thing I learned from him is you need to be a teacher no matter what," Brewster said.
Brewster added there are times that you need to become a motivator as well as a teacher.
"Sometimes X's and O's isn't what's going to win you the ball game," Brewster said. "It's the team that wants it the most and that is definitely something he drove home to me."
Brewster began his basketball career as a player. He played his first two collegiate seasons at Iowa Lakes Community College. He then transferred to Division I Charleston Southern where he was a two time defensive MVP and a captain his senior season.
After graduation, he played professionally in Geneva, Switzerland for Grand Saconnex during the 1994-95 season. In his second season, he played for Regensdorf in Zurich. His final season was split between Dungannon in Ireland and Villar in Switzerland.
Playing in different countries had its ups and downs according to Brewster. In Europe, the game of basketball itself differs from its American counterpart.
"European basketball is not as physical," Brewster said. "It's more finesse, there is more of an emphasis on scoring so I had to adjust my game accordingly."
The transition from player to coach was one that he had been told he needed to make, especially from a former coach.
"My junior college coach (Bob Grems) called me while I was in Europe and talked to me about becoming a coach and he even called my parents to talk                                     to them about it."
Not every good player makes a good coach. The transition sometimes can be very difficult. Sometimes, coaches forget that not everyone has the same skill set as they did.
Brewster's biggest key to success is simple and something often forgot about: listen.
"Listen to the players, listen to the floor, listen during practice, those big keys to how the ball being moved around," Brewster said. "It will tell you a lot."
While being head coach for the first women's team in UND history to go to the NCAA tournament in 2014 and being an assistant in 2006 when they went 34-1 are very fond memories for Brewster, his favorite part of coaching is seeing his players graduate.
Being selected to the Black Coaches and Administrators Achieving Coaching Excellence Program is something he is very proud of.
"It was a very humbling experience," Brewster said "There was a lot of responsibility that came with that award. Being one of few minority coaches in North Dakota, there are a lot of people watching, which makes me responsible to do things the right way on and off the court."
In the next five years, Brewster wants to make the UND women's basketball program into an established program in the Big Sky Conference.
Adam Gunderman is a sports writer for The Dakota Student. He can be reached at [email protected]