Hawks use big second half to pull away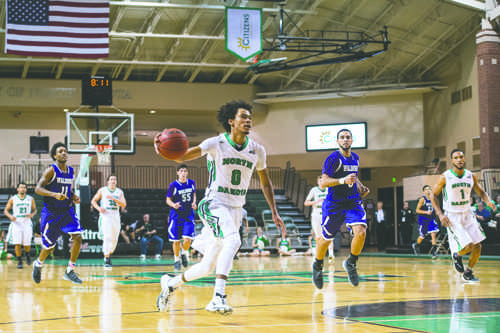 UND guard Geno Crandall runs the court against Waldorf in last Saturday's game. Photo by Nick Nelson/ The Dakota Student
After a back and forth first half, the Fighting Hawks pulled away in the second half to win 78-58 over the Waldorf College Warriors.
Tuesday night's game at the Betty Engelstad Sioux Center was a tale of two halves. In the first half, the Warriors kept up with the fast tempo of UND's offense. While the Fighting Hawks were moving the ball around well and scoring, Waldorf kept pace with them.
From behind the three-point line, Waldorf College started red hot. Tyler Parrish scored 15 of the Warriors' 30 points in the half. All of his points came from the five three-pointers on seven attempts.
The second half was where UND took over. They shot 42.7 percent from the field in the second half. The offense came out slow for the first four minutes of the half, but point guard Geno Crandall hit a three-point shot from the corner to jump start a 25-4 UND run. It was all Hawks after that.
"Once we got going, we picked it up,"  Crandall said. "We started playing the way we should, fast breaks, getting dunks and just having fun."
The Fighting Hawks' bench was solid in the win. Adam McDermott and Corey Baldwin combined for 20 points and four three-pointers in the second half. They scored 29 points to the Warriors' 10 points.
"They stepped up, they made shots and played defense hard," Crandall said. "That's when we went on our run."
Conner Avant had a big day for the Fighting Hawks as well, scoring 10 points. Something that may be missed in the box score is his defensive contributions to the team and game. The freshman drew three key charging penalties during the game.
Quinton Hooker scored 14 points in the contest and recorded seven rebounds. Hooker has now scored double-digit points in every game he has played this season. He and Crandall, who scored 17 points, lead UND in scoring.
Much of UND's success in the game came through its ability to get rebounds. The Hawks had 40 rebounds on the night, 27 defensive and 13 offensive. They limited the Warriors to 29 total rebounds, with 24 on defense and just five on offense. UND did not let them get second-chance points the entire night.
After letting Waldorf College hit eight of its first 15 three-pointers in the first half, UND's defense made the necessary adjustments to hold them to two of six from behind the line in the second half.
"That was a great lesson for the young guys to stay the course," UND coach Brian Jones said. "To stay mentally in the game, they need to be ready when their number is called, and they gave us a huge lift defensively and they made some shots as well."
UND's next game is Saturday against Bradley, a Missouri Valley Conference member.
The game will air on ESPN 3 at 7 p.m.
Adam Gunderman is a sports writer for The Dakota Student. He can be reached at [email protected]