Fighting Hawks' season ends in triumph, disappointment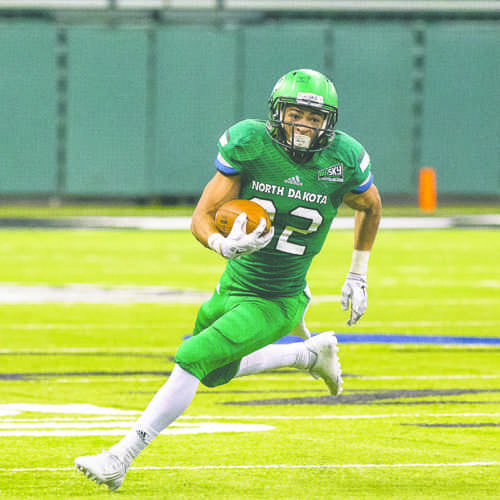 UND running back John Santiago rushed for more than 100 in nine games this season. Photo by Nick Nelson/The Dakota Student
UND kept rolling in a 45-21 victory over Cal Poly on Saturday, but narrowly missed out on the FCS playoffs.
Much like the previous weekend against Northern Colorado, UND's defense forced a turnover on the opponent's opening drive.
This time, it was four plays into the game.
After their first score, the Hawk defense held strong on its one-yard line on fourth down. UND defensemen stuffed the Mustang run to get their offense back the ball.
The offense then marched down the field on an impressive 99-yard scoring drive to take a 14-0 lead.
UND's defense was given the tough task of handling the vaunted Mustang triple option offense, lead by speedy quarterback Chris Brown. The Mustang offense leads the Big Sky in rushing coming into the game.
The Hawks did what no other team could do -— shut it down completely.
"As the game went on, we got more comfortable playing defense against it," UND linebacker Will Ratelle said. "Coach Schimdt came up with a great gameplan, so we just executed what he drew up."
The Cal Poly offense came into the game averaging 410 rushing yards per game. It managed only 153 against the stout Fighting Hawk defense.
Ratelle finished the game against Cal Poly with 11 tackles, giving him 110 tackles in his final season with UND. This is the first time a UND player has recorded consecutive 100 tackle seasons since Digger Anderson in 2004.
Running back John Santiago continued his historic season with 117 yards and three touchdowns on the day. He finished the regular season ranked fourth in the FCS with 1,459 yards. His 2,159 all-purpose yards rank him third in the FCS.
Santiago also rushed for 100 plus yards in every matchup against Big Sky opponents. He broke former UND wide receiver Greg Hardin's 2013 record of 2,017 all-purpose yards this season.
Fighting Hawk quarterback Keaton Studsrud had a strong performance on Saturday, completing 17 of his 20 passes for 255 yards.
"The o-line performed well, and the receivers ran good routes," Studsrud said. "We had to pull a lot of stuff to put up those points."
Junior wide receiver Clive Georges benefited from Studsrud's big day, catching five passes for 141 yards and a touchdown. Georges' touchdown came on a 64-yard pass to make the score 21-0 UND.
"He broke his hand, so he was out for however many weeks," Studsrud said. "Now we're just putting him in spots to be successful and he's doing really well, catching the ball and running good routes. He's a fast dude."
Since the Fighting Hawks were not selected by the FCS playoff selection committee Sunday morning, they will not be in the playoffs.
UND finishes the season with a 7-4 record, their best since 2011. They will look to build on their first successful season in Division I football next year with many of their core players returning.
Adam Gunderman is a sports writer for The Dakota Student. He can be reached at [email protected]