Football keeps playoff hopes alive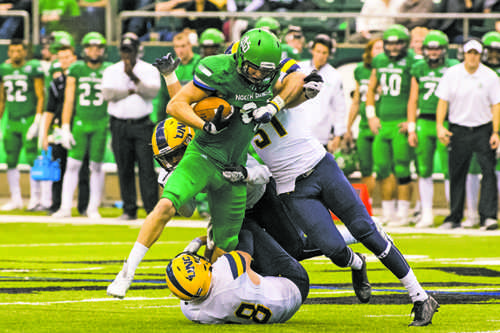 Luke Stanley fights for more yards against Northern Colorado's defense. Photo by Nick Nelson/ The Dakota Student
UND dominated the University of Northern Colorado 45-14 on Senior Day last Saturday at the Alerus Center.
This is the first time in recent memory that UND has had a playoff spot on the line for the Green and White.
"We haven't played meaningful football in November in I don't know how long," senior linebacker Will Ratelle said. "Last year, we were pretty much playing for pride."
Briann Labat set the tone on just the second play of the game by reading UNC's freshman quarterback Jacob Knipp's pass and intercepting it for a touchdown. On the ensuing UNC drive, Drew Greely sacked Knipp, forcing a fumble which UND recovered.
"The quarterback seemed like he was going to him no matter what, so I just made the play," Labat said.
Knipp had been having a good season, especially for a freshman coming into the matchup. On Saturday, the Green and White defense made him look like exactly that, a freshman. Every time he stepped back to pass, he had Green and White jerseys closing in on him. It was all capped off by a sliding interception next to the sideline by Ratelle on a pass Knipp wanted to throw away, as he was escaping pressure.
The offense had an exceptional day as well. Santiago rushed for 180 yards with two explosive 45-plus-yard touchdowns. These sort of things have become commonplace for Santiago, who broke the UND record for most rushing yards in a season and left the game as the leading rookie rusher in the FCS.
Santiago's success is largely dependent on how well the offensive line has played, and Saturday it played phenomenally. Every time he or any of his teammates were running, there were huge holes made by the line.
The day was not all positive though. In the second quarter, running back Brady Olivera went down with a knee injury. He had to be helped off the field and looked like he couldn't put weight on his right knee.
After Olivera's injury, Kyle Norberg came in and didn't skip a beat, rushing for 80 yards and a touchdown.
Iwarri Smith also rushed for an even 100 yards capped off by a long 34-yard touchdown run.
In total, the UND offense rushed for 400 yards.
UND quarterback Keaton Studsrud looked comfortable while he was in the game, completing 13 of 16 passes for 141 yards and a touchdown. He rolled out several times to complete passes which is great to see after his leg injury. He also ran for a big 18-yard gain.
That's a big win for our program," UND coach Bubba Schweigert said. "You want to win in November, and we feel like we're in the hunt. All we can do is control what we can control. You never know how things are going to go in our league or around the country."
The Green and White will play in California at Cal Poly at 8:05 p.m. Saturday.
If they can manage to come away with a victory, they may be able to get a playoff spot for the first time since joining the Big Sky Conference.
Adam Gunderman is a sports writer for The Dakota Student. He can be reached at [email protected]