India Night brings new culture to students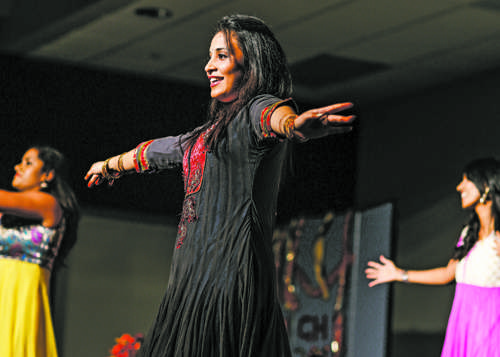 Swati Sakhilati performs at India Night. Photo by Natosha Lund/ The Dakota Student.
Members of the UND community gathered last Thursday to celebrate Indian culture and enjoy some traditional Indian cuisine last Thursday in the ballroom at the memorial Union.
UND's Student Association of India hosted the event, which is part of a series of events held to celebrate the different nationalities and backgrounds of UND students. The event was MC'd by Ashish Kotwal, a mechanical engineering graduate student and president of the Student Association of India.
The event opened with a traditional dance performed by Tanaya Datta and Preethi Kasilingam. Following the opening dance, Datta welcomed students and other visitors to the event.  
"We Indians are basically proud of our tradition and culture that we hold dear," said Datta. "I personally like the food and classical Indian dance form. The dance that you saw me performing is one of the most popular classical dance forms. "
After that,Sayantani Ghosh, a medical student at UND, gave a presentation to the visitors about the history and culture of India.
"India started in 3300 BC. It was formed on the bank of the Indus River and it is the oldest Indus Valley civilization," said Ghosh.
With over 1.2 billion people, India is considered the world's most populous democracy. The elections in 2014 had the most voters of any election in history.
"So when people in Grand Forks talk about weather, people in India discuss about cricket," said Ghosh. The most popular sports in are cricket, hockey, football and badminton.
Ghosh discussed some of India's contributions to science and other academic disciplines. India is credited with inventing the mathematical concept of pi and sent a space probe to Mars in 2013.
Notable Nobel Laureates from India include Mother Teresa, Amartya Sen and Venkatraman Ramakrishnan, who received Nobel prizes in peace, economics and chemistry, respectively.
Following the presentation, a group of UND students performed a series of dances inspired by Bollywood, the Indian equivalent of Hollywood in the US.
Bollywood is the largest film producer in India, and India itself leads the world in many statistics related to the film industry, including the number of films produced and number of tickets sold.
The student-performed sequence consisted of a short video explaining the upcoming scene followed by a dance. The series introduced a young man and woman who met and were married at the end of the show.
Following the performances, visitors to the event gathered for a traditional Indian meal.
Sean Cleary is a staff writer for The Dakota Student. He can be reached at [email protected]