Personal victories in the midst of defeat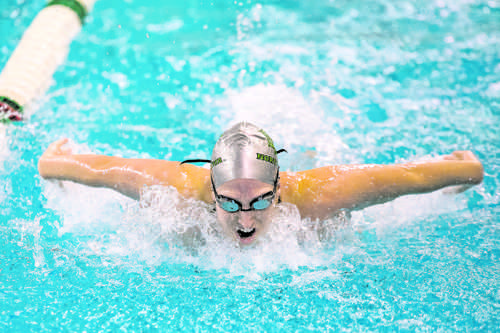 UND swimmer Teresa DiGregorio competes in Saturday's meet at the Hyslop Sports Center. Photo by Nick Nelson/ The Dakota Student
The UND men's and women's swimming teams lost to rival University of Minnesota this Saturday in Grand Forks.
The Green and White men lost 193-103 to the Gophers and have now reached the 2-2 mark on the season.
The UND women were defeated by the Gophers as well by a score of 195-103 Saturday afternoon. With the loss, they fall to a 3-2 record.
Even though both the men and women lost to Minnesota, the meet was not a total loss.
Both the women and men improved since their last meeting with the Gophers last season. The men lost 207-89 at the hands of the Gophers last year and the women were defeated 215-81.
"Winning four events at this meet is a new high water mark for our program," UND coach Chris Maiello said. "I am proud of how the entire team competed today."
Senior Colin MacQuarrie won the 100-freestyle as he narrowly beat his teammate Cal Mourtisen for the win. They then teamed up with fellow swimmers Dylan Baptist and Ian Ballantyne to take second place in the 200-relay with a time of 1:33.41.
Jacob Wielinski continued his impressive first season for the Green and White. The freshman won the 1000-freestyle event with a time of 9:28.95 and won handily. He placed second in the 500-free as well as the 200-IM. Wielinski showed why he is the two-time Western Athletic Conference Men's Swimmer of the Week.
The women were lead by junior Steph Frey and freshman Marlena Pigliacampi, both of whom had great days. Frey won the 100-breaststroke with a time of 1:04.02 as well as placing third in the 100-freestyle. Pigliacampi placed first in the 200-fly with a time of 2:04.38 while also finishing second in the 100-freestyle.
For the women, personal bests were abundant this Saturday. Pigliacampi's time on her 200-fly was a personal best, Katie Stover's 10:47.28 on her 1000-free was a personal best, Joelle Borchers' 59.79 100-fly was a personal best, Gabrielle Goerlinger's 1:00.21 100-back was a personal best and Meredith Ubel's 5:21.45 500-free was also a personal best.
Louis Belley had his season's best 100-backstroke with a 52.57 time. Jacob Fisher also had a season's best with a 2:17.63 in the 200-breaststroke.
Coach Maiello was pleased with the way his men and women swam, even in a loss.
"Up and down the lineup we swam well," Maiello said.
UND faces the S.D. State Jackrabbits next. They will travel to Brookings, South Dakota, on Nov. 20 and then travel to Vermillion, S.D., to take on the University of South Dakota.
Adam Gunderman is a sports writer for The Dakota Student. He can be reached at [email protected]