Loyd hopes to lead UND to winning season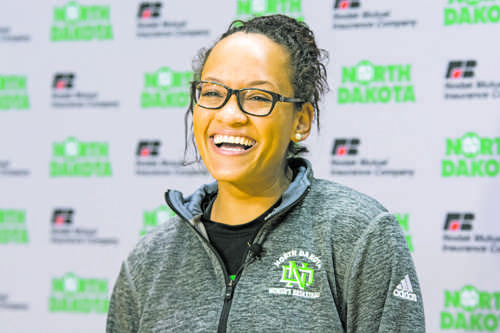 Mia Loyd will attempt to lead the Green and White to the Big Sky title this year. Photo by Nick Nelson/ The Dakota Student
As a junior, Mia Loyd lead the UND women's basketball team in points per game as well as  rebounds. This year though, she is looking to continue that success and continue to build upon  it.
Last season, Loyd averaged almost a double-double with 15 points and 9 rebound per game. This year, with leading rebounder Emily Evers having graduated last spring, Loyd want's to get more rebounds.
"I need to make sure that my rebounding is consistent," Loyd said. "When I get rebounds on the defensive end, I think it really sparks my offensive end."
Now that she has graduated from UND, Evers is continuing her basketball career by playing professionally in Spain for Las Palmas de Gran Canaria, which means players like Loyd need to step up in her place.
"We do have some taller post players but they're going to have big shoes to fill," Loyd said. "They're really going to have to step up this season."
The team also lost Siri Burck to graduation and will have to find a way to fill the hole in the roster she leaves behind.
"Siri was a very, very good role player for us last year," Loyd said.
Although they may have lost some players, they are still picked to finish No. 2 in the Big Sky Conference this season.
This is not the first time in recent memory that the Green and White have been picked to be a top Big Sky team.
Last season, they were picked to finish first in the Big Sky but the team struggled towards the end of the season and did not win the conference.
Loyd says the team wants to learn from their mistakes from last year, in which they lost six of their last seven games of the regular season.
"We need to stay focused throughout," Loyd said "The season is long, it's a grind, but we need to keep our focus all season."
Loyd was named Preseason Player of the Year for the Big Sky. After her great season last year, great things are expected from her, yet she remains unfazed and will not let the preseason accolades get to her head.
"Preseason accolades don't mean anything until the end of the year," Loyd said.
The Green and White will look to dethrone their biggest competition in the University of Montanta, who beat them en route to the conference championship last season. It was the 21 time the Lady Grizz have won the conference championship since its inception in 1983.
While the Lady Grizz are an excellent team, Missoula is still Loyd's favorite and least favorite place to play.
"Montana always gives us a run for our money, especially on their home court," Loyd said. "They have good fans and it can create a hostile environment which is a good change of pace, to see everyone not liking you opposed to the Betty where everyone loves you."
After winning the conference title her sophomore season, Loyd is eager to try and win another.
Every season, winning the title is seen as the ultimate team goal. Since Loyd has come to UND, there have been things that have changed and some things that have remained the same with the program.
"The biggest difference I've noticed is the recognition we get on and off campus," Loyd said. "Our fans expect us to win an will stop us in public to ask us how the team looks."
UND starts this season with five of their first six games on the road, a tough test for any team.
Two of the games are out on the west coast in San Francisco, Cali., and Eugene, Ore., which will mean lots of traveling.
"Our schedule is tough," Loyd said. "We're not playing to beat teams that aren't very good, we want to be challenged and play good competition."
Even though the preseason accolades may not mean much to Loyd, the player of the year award may not be far off as Loyd went off for 41 points and 24 rebounds in the first exhibition game of the year.
The team starts their regular season Friday, November 13 in Iowa City, Iowa when they square off against the University of Iowa Hawkeyes. Then on November 17, the Green and White get their first regular season home game against Omaha.
Adam Gunderman is a sports writer for The Dakota Student. He can be reached at [email protected]