UND volleyball beats down Bison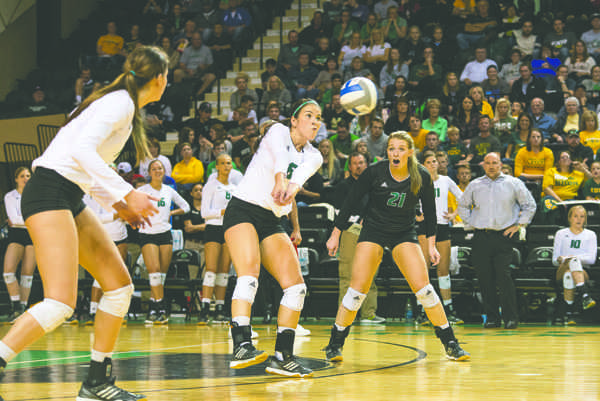 UND defensive specialist Laruen Clarke hits the ball during UND's win against NDSU. Photo by Nick Nelson/ The Dakota Student
Behind dominant performances of McKenzie Hart and Courtney Place, UND moves to 16-7 on the season
The UND volleyball team looked to avenge its 3-1 loss in Fargo last year and did just that by sweeping the Bison 3-0.
The Betty Engelstad Sioux Center was rocking Tuesday night with an almost full capacity crowd, with half being students. As always, the fans got pumped up for a match against rival NDSU.
The Green and White took the first set 25-21 after trading scores with the Bison through most of the set. After a long rally between the teams, UND got the point to make it 13-14, which sparked their comeback. Sophomore Faith Dooley took over the game toward the end of the set, scoring on three of five attempts.
The second set started and ended like the first, with the two teams trading points for most of the set, with UND finally pulling away toward the end for a 25-21 victory.
NDSU almost came back after tying the game at 12-12 on a 5-1 run, but fell just                        short of taking over the set.
After starting on a 3-0 run in the third set, UND then gave up four straight points to NDSU. It was back and forth once again until UND took its biggest lead of the day, 20-14. The final score was 25-19.
When at home, the volleyball team does very well. The Green and White are now 6-0 while playing in Grand Forks this season. The team feeds off the energy but members did not want to let it go to their heads.
"The biggest challenge will be living in the moment," senior defensive specialist McKenzie Hart said. "Staying in the moment and not having the outside get too big for us."
The game was definitely not too big for Hart, as the NCAA digs per set leader added 28 digs in three sets. She was key in the victory, providing excellent defense and setting the tone for the rest of her teammates.
Freshman Courtney Place earned her eighth double-double of the season. Place played at a high level, finishing with 12 kills and 14 digs. Making this even more impressive is that nobody was sure if she could play because of a foot injury.
At 16-7, UND looks to continue its successful season on the road at Big Sky Conference foe Portland State. They will not have another home game until Oct. 29.
Adam Gunderman is a sports writer for The Dakota Student. He can be reached at [email protected]