Soccer continues on slippery slope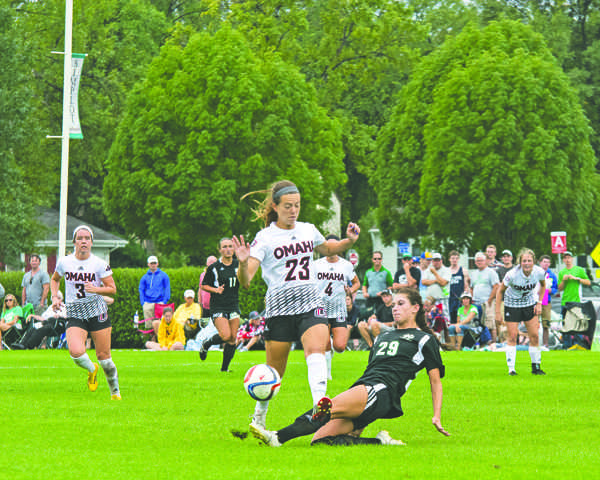 UND defender Emma Contino battle for the ball. Photo by Nick Nelson/ The Dakota Student
Sometimes close just is not close enough. The UND women's soccer team lost two close games this past weekend.
UND opened Friday against Big Sky opponent Portland State. It was a strong showing again by UND goaltender Olivia Swenson, who knocked away 11 shots.
After going down 1-0 by a goal from Portland State's Katie Forsee in the sixth minute, the Green and White responded with an equalizer by Austin Overson in the 36th minute from a corner kick to bring the game to a 1-1 draw at the half.
Something had to give and after a well-played second, Portland State broke through in the 64th minute with a rebound goal by Cori Bianchini.
After the 2-1 loss, UND went from Portland, Ore., to Sacramento, Cali., to face Sacramento State on Sunday.
Looking to bounce back from the loss, the Green and White weren't able to overcome the Hornets, losing 2-0. Sacramento State was looking for redemption as well after losing a double overtime thriller to Northern Colorado.
Sacramento State was able to jump to a quick lead in the seventh minute with Adaurie Dayak scoring her fifth goal of the season off a corner.
It was a stalemate after the goal as Swenson kept the team in contention only down by one goal for the rest of the game. It wasn't until the 73rd minute when Alyssa Anderson put the nail in the coffin to net the final goal to secure the victory.
Swenson turned in another strong performance again in net, stopping 8 of 10 shots on goal.
With the pair of losses, UND moves 4-9-2 on the season.
Jack Harvey is a sports writer for The Dakota Student. He can be reached at [email protected]